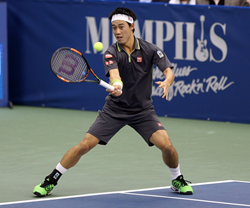 Nishikori becomes one of only seven players in professional tennis history to have the opportunity to win four consecutive events
MEMPHIS, TENN. (PRWEB) December 17, 2015
Kei Nishikori is confirmed to compete and defend his championship title in the 2016 Memphis Open presented by ServiceMaster February 6-14 at the Racquet Club of Memphis. Tickets for the Memphis Open presented by ServiceMaster start at $10 and are available at http://www.memphisopen.com. The Memphis Open celebrates 40 years at the Racquet Club of Memphis in 2016.
Last year Nishikori addressed the Memphis crowd after winning the title stating, "I think I'm going to move here soon, it feels really great to win. It feels like home."
Nishikori hasn't moved to Memphis yet, but he is currently ranked number eight on the Association of Tennis Professional singles rankings and holds three Memphis Open ATP titles for the years of 2015, 2014, and 2013. Nishikori is the first player to win three back-to-back Memphis Open ATP titles. A "four-peat" would make Nishikori the only player to ever win four consecutive Memphis Open titles. Jimmy Connors currently holds the record for most Memphis championships with four, although they are not consecutive. Connors won Memphis ATP titles in 1978 and 1979 and again in 1983 and 1984.
"We've been talking a lot about bringing back the love to the Memphis Open this year and the Nishikori confirmation is one more example of our commitment to bringing the Memphis Open fans what they want," said Jerry Solomon, President of GF Sports. "Our research proved the fans wanted Nishikori to defend his title for the fourth straight year in 2016 so we are pleased to announce his return. Nishikori becomes one of only seven players in professional tennis history to have the opportunity to win four consecutive events."
The only other players in the history of professional tennis that have won four consecutive or more tournaments include Federer, Nadal, Borg, Vilas, Kafelnikov, Djokovich, and Taroczy.
Other players confirmed to play in the tournament are the Bryan Brothers who are also seeking their fourth Memphis Open title and 2016 Junior Wimbledon Champion Reilly Opelka who will be making his ATP tournament debut. More confirmations will be announced in the coming weeks.
Mike and Bob Bryan are currently the No. 1 ranked ATP tour doubles team. They have amassed an incredible 106 tournament titles, including 16 Grand Slam wins, and will compete in Memphis for what may be the last time in their illustrious, professional career.
"I am looking forward to coming back to Memphis where some of the greatest players of all time have won the event. If we can win it for a fourth time, we will join the Woodies as the only players to do that which would be quite an accomplishment," said Bob Bryan.
"Memphis has always been one of our favorite tournaments because of the unique blend of tennis, food and music. It will be great to come back to the Racquet Club where there has been so much tennis history written," said Mike Bryan.
Reilly Opelka is America's Wimbledon Junior Champion. The Memphis Open and Opelka announced in October that he has committed to a multi-year agreement with the Memphis Open presented by ServiceMaster. The 6-foot-11-inch tall Opelka represents the new generation of American talent and he will include Memphis as part of his schedule through 2018. Opelka visited youth at Memphis-area tennis clubs and St. Jude Children's Research Hospital® during a visit in October.
"I am honored to be asked to come to the Memphis Open presented by ServiceMaster to play where there is so much history and all the great American players have won," said Reilly Opelka. "It is exciting to have a chance to play on the same court where legends like Connors, McEnroe, Agassi, Sampras, Chang and Roddick have played."
Memphis Open may be found online at:
http://www.MemphisOpen.com
http://www.Facebook.com/memphisopen
http://www.Twitter.com/memphisopen
About Memphis Open Presented By ServiceMaster
The Memphis Open is one of the longest-running American tournaments on the ATP World Tour and the only indoor ATP event contested in the United States is celebrating its 40th anniversary at the Racquet Club of Memphis in 2016.
Men's champions have included a "Who's Who" of the tennis world: Andre Agassi, Jimmy Connors, Bjorn Borg, Jim Courier, Stefan Edberg, Ivan Lendl, John McEnroe, Andy Roddick and Pete Sampras. Doubles champions include three of the greatest tandems of the Open era: Bob and Mike Bryan, Ken Flach and Robert Seguso, and Todd Woodbridge and Mark Woodforde, among others.
About GF Sports
After the successful completion of the Memphis Open presented by ServiceMaster in February 2015, GF Sports, LLC, a newly formed integrated event content company, formed by the New York-based financial management company GF Capital Private Equity Fund, and its founder Gary Fuhrman, along with long time sports executive, Jerry Solomon and his Lynnfield-based company, StarGames acquired the Tournament. GF Sports has committed to reinvigorating the Memphis Open brand and bringing back the love so many local, regional and national fans have enjoyed over the last 40 years.
###