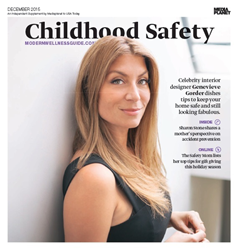 We can't foresee all of the pitfalls of life, but there are some easy things parents can do to ensure their home is safe for their newborn or young child
(PRWEB) December 18, 2015
The print component of "Childhood Safety" is distributed within this weekend's edition of USA Today, with a circulation of approximately 250,000 copies and an estimated readership of 750,000. The digital component is distributed nationally, through a vast social media strategy and across a network of top news sites and partner outlets.
Popular interior designer and HGTV regular Genevieve Gorder graces the cover of the print publication. In an exclusive interview she discusses her top tips, as both a designer and a mother, to ensure that a home is as safe as possible for kids. Gorder says, "We can't foresee all of the pitfalls of life, but there are some easy things parents can do to ensure their home is safe for their newborn or young child." To export the digital version of the campaign, click here.
Also inside, actress and mother of three Sharon Stone provides her take on childhood safety. Stone remarks, "I'm always saying 'hold the railing' like it's a mantra and 'look both ways' and they are never allowed to have their electronics on while on the stairs. We also keep very open line of communication; I think that is the biggest thing one can do, simply to talk about everything, every day.
This campaign was made possible with the support of the National Safety Council, Lightning Labels, American Cleaning Institute, SANUS, Decorview, Toy Industry Association, Intertek, Mom Blog Society, American Association of Poison Control Centers, The Boppy Company, The CDC, MAXIMUS Home Security Solutions, Chris McGoey, The Safety Mom, Family Travel Association and more.
About Mediaplanet
Mediaplanet is the leading independent publisher of content-marketing campaigns covering a variety of topics and industries. We turn consumer interest into action by providing readers with motivational editorial, pairing it with relevant advertisers and distributing it within top newspapers and online platforms around the world.
Press Contact:
Rachel Bernstein
rachel.bernstein(at)mediaplanet.com
646-755-7949
Chad Bernstein
chad.bernstein(at)mediaplanet.com
646-755-7950