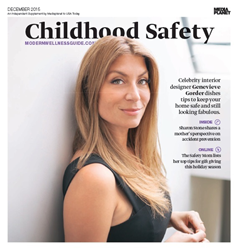 (PRWEB) December 18, 2015
The print component of "Childhood Safety" is distributed within this weekend's edition of USA Today, with a circulation of approximately 250,000 copies and an estimated readership of 750,000. The digital component is distributed nationally, through a vast social media strategy, and across a network of top news sites and partner outlets. To export the digital version of the campaign, click here
In an exclusive interview, interior designer and HGTV regular Genevieve Gorder shares advice as both a designer and a mother. She advocates that a home can be as safe as possible for children without losing a little style and pizzazz. Says Gorder, "We can't foresee all of the pitfalls of life, but there are some easy things parents can do to ensure their home is safe for their newborn or young child."
This campaign was made possible with the support of The Boppy Company, a leading infant feeding and support pillow provider.
About The Boppy Company
Through their Safe Sleep for Baby campaign, The Boppy Company has been able to educate countless parents on safe sleep practices for infants. The Boppy Company has taken this message to the readers of this Childhood Safety campaign by collaborating as both a sponsor and as a contributor to the article, Breathe Easy: Safe Sleeping Environments for Your Baby, which can be seen both in print and online. Nancy Bartley, CEO of The Boppy Company, remarks on the company's commitment to sleep safety, "As the leader in Feeding and Infant Support Pillows and knowing that pillows could be misused, we at Boppy, our retail partners and our not-for-profit partner, First Candle, have worked together for years to educate new parents through our marketing materials and social responsibility programs." For more information on Boppy's commitment to sleep safety, visit http://www.boppy.com/safe-sleep-for-baby/
About Mediaplanet
Mediaplanet is the leading independent publisher of content-marketing campaigns covering a variety of topics and industries. We turn consumer interest into action by providing readers with motivational editorial, pairing it with relevant advertisers, and distributing it within top newspapers and online platforms around the world.
Press Contact:
Rachel Bernstein
rachel.bernstein(at)mediaplanet.com
646-755-7949