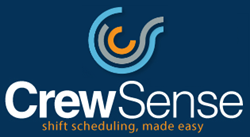 "Managers are using our platform to drastically reduce time spent scheduling (tsl). We are seeing near 80% time reduction in the amount that managers are spending just trying to fill their schedules for the day."
Grants Pass, OR (PRWEB) December 18, 2015
CallBack Staffing Systems, LLC announces the release of their new SaaS platform, CrewSense.com. The new platform is a revolution in cloud based employee scheduling and resource management. CrewSense.com is a complete re-launch of the already established employee scheduling system offered by CallBackStaffing.com. Over 170 Organizations across the USA & Canada rely on CrewSense, serving nearly 17,000 employees daily. Customers include local and State Governments, Municipalities and large public companies (including Post Holdings, INC; Owens Corning, and Johns Manville among others). The core customer remains Union Based labor forces, like Public agencies (Fire Departments / EMS / Law Enforcement) and factory workers, however any shift based work force can benefit from CrewSense.
The CrewSense platform allows organizations to streamline their daily staffing, scheduling and resourcing needs, all from within the cloud. Our proprietary 'CrewSense' intelligence system is a rules based module for staffing needs, and allows organizations to set very specific staffing rules, that the system algorithm then follows. Each day is analyzed for specific staffing deficiencies, and substitutions are made on the fly via our integrated telecommunication platform (sms, phone call, mobile app). All of this is done with the organizations unique staffing rules in place, which are often times based on complex labor and union rules or contracts.
Interested companies can sign up for a risk free, 30 day trial by visiting CrewSense.com . The CrewSense platform is offered in it's entirety, for a low monthly subscription rate of $1.89 / user / month. The cost is all inclusive, and no contracts or sign up fees are required.
"The platform is proven, with less than 1% customer turnover since inception. Our customers are finding the system completely eliminates the burden of shift scheduling and employee resourcing, especially for the complex environments of Union labor based organizations," said Casey McIntosh, CrewSense founder.