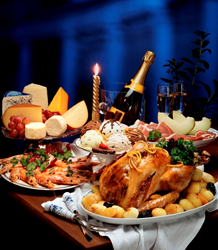 Complications of diabetes are severe, especially for those who fail to properly control their blood sugar.
Tarrytown, NY (PRWEB) December 19, 2015
As we celebrate the joy of another year with family and friends, Life Support Technologies Group (LST) urges those who have diabetes – including many of its patients -- to continue to carefully monitor and control their blood sugars during the Holiday Season. In spite of the temptation of holiday food, sweets, and spirits, those who have diabetes need to exercise moderation so that they can continue to enjoy the Holidays for years to come.
The American Diabetes Association offers the following Holiday Tips for those living with diabetes:
1. Put the emphasis on time with family and friends, not on food. Play games or spend time outdoors instead of just eating and drinking.
2. Try to eat at your regular mealtimes. When you do eat, slow down and make sure that your serving portions are roughly the same as your usual helpings. Avoid going for second helpings. If you plan to indulge in sweets, cut back on carbohydrates during the meal.
3. Bring your own food to parties and gatherings. If you are eating food provided by the host, ask about nutritional information, especially carbohydrates and sugar per serving.
4. If you plan on having an alcoholic drink, eat something first. Also, avoid high caloric mixers, including soda, tonic juice, and margarita mix. Women with diabetes should limit their alcohol consumption to one drink, and men to two drinks.
5. Maintain or increase your physical activity levels to compensate for any increases in carbohydrate, sugar, and alcohol consumption.
6. If you do overeat, stop and focus on something other than food. Get back to your normal eating, blood monitoring, and exercise routine the next day.
People who have either Type I or Type II diabetes have to monitor their blood sugar (officially referred to as "blood glucose") and make adjustments if there's too much or too little sugar in their blood. Many things contribute to blood sugar level, including: food, exercise, stress, and sleep; too much or too little of any of these things can be a very bad thing for someone with diabetes.
According to the Mayo Clinic (http://www.mayoclinic.org) complications of diabetes may develop gradually and include: cardiovascular disease, nerve, kidney, eye, and foot damage -- which may result in amputation -- skin conditions, hearing impairment, and Alzheimer's disease.
Nearly 30 million Americans are living with diabetes according to the American Diabetes Association (http://www.diabetes.org), and a total of 387 million people worldwide have the illness, according to the International Diabetes Federation (http://www.idf.org).
LST wishes everyone a happy, healthy Holiday Season and New Year's: a Happy Hanukkah; a very Merry Christmas; Happy Kwanzaa.
For more information see:
Mayo Clinic
http://www.mayoclinic.org
American Diabetes Association
http://www.diabetes.org
International Diabetes Federation
http://www.idf.org
About the Life Support Technologies Group (LST)
The Life Support Technologies Group (LST) is a Tarrytown, NY-based medical and life-support engineering company specializing in Advanced Wound Care and Hyperbaric Medicine Services to hospitals in the NY, NJ, CT region. LST has been in business for over 20 years and currently provides services to hospitals across the northeast U.S.A.
Glenn Butler, CEO
Life Support Technologies Group
(914) 333-8412
http://www.lifesupport-USA.com