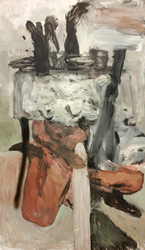 Santa Fe, NM (PRWEB) December 17, 2015
Michele Bubacco has a raw, visceral approach to painting, with deliberate strokes and a reductive palette that emphasizes the anguish and despair of the figures. His gestural and almost violent canvases present an implied narrative rife with psychological underpinnings and ambiguous sexuality and behavior. The figurative elements are fragmented, leaving the viewer with only a partial point of entry into the chaotic events seemingly taking place.
The works collectively, present a 'story line' of indeterminate Hogarthian activity and apparent dissolution as each canvas segues into the next. While there is no beginning and no end to this non-narrative, the multi-figure images may be considered the opening scenes to an enigmatic maelstrom of discomfort; with the paintings of single figures and resultant vignettes, furthering the sense of darkness and mystery.
Bubacco has been called an 'existentialist' and in this there is the ring of truth. Surely, he is a descendent of artists such as Alberto Giacometti, Germaine Richier and Francis Bacon; and like them, his figures struggle for self-definition amidst ambiguity in an age of doubt.
To inaugurate its new location, David Richard Gallery is pleased to feature the artwork by the young Italian painter Michele Bubacco as part of its 2016 program of exhibitions. The exhibition, "Serenade" will be presented January 15 through February 20, 2016. There will be an artist reception on Friday, January 15 from 5:00 - 7:00 PM and a presentation by the artist on Saturday, January 16, from 3:00 - 4:00 PM. The gallery's new location is at 1570 Pacheco Street, Suite A1, Santa Fe, New Mexico 87505, phone 505-983-9555, in the midtown art and design district.
About the artist:
Born in 1983 Michele Bubacco is the son of the famous Murano glass artist, Lucio Bubacco, under whom he first learned his craft. From 2002 to 2004 he studied painting in Venice under Alessandro Rossi, before establishing his own studio in that city. In 2011 he presented his monumental painting Crimson Orchestra during the Venice Biennale. He has recently relocated to Vienna and has participated in exhibitions in Austria, Germany and Italy. This is his first solo exhibition in the United States.
About David Richard Gallery:
Since its inception the gallery has produced museum quality exhibitions that feature Post War abstraction in the US. The presentations have addressed specific decades and geographies as well as certain movements and tendencies. The gallery has produced retrospective group and solo exhibitions, which have included renowned
figures such as Richard Anuszkiewicz, Billy Al Bengston, Leon Berkowitz, Judy Chicago, Fred Eversley, Beverly Fishman, Tom Green, Tom Holland, Ward Jackson, Paul Reed, Roland Reiss, Oli Sihvonen, Julian Stanczak, Tadasky, and Sanford Wurmfeld.
While the David Richard Gallery has long been recognized as an important proponent of post-1960s abstraction - including both the influential pioneers as well as a younger generation of practitioners in this field - in keeping with this spirit of nurture and development the gallery presents established and very new artists who embrace more gestural and representational approaches to the making of art. In 2015 alone the gallery has introduced a broad range of abstract and figurative artists into its program, including Michele Bubacco, Angela Fraleigh, Christian Haub, David Humphrey, Martin Mull, Gabriel J. Shuldiner, Claire Sherman, Stephen Westfall and Bryan Whitney.
For additional information please contact:
David Eichholtz | 505-983-9555
d(At)DavidRichardGallery(Dot)com