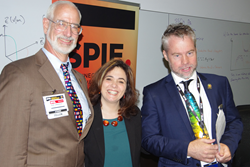 It was an amazing meeting, exceeding our expectations; enjoyable, stimulating, and inspiring.
BELLINGHAM, Washington, USA, and SYDNEY, Australia (PRWEB) December 17, 2015
With high-profile speakers and more presentations and attendees than its past run, this year's SPIE Micro+Nano Materials, Devices, and Applications, exceeded expectations, organizers said. The first event to be held at the recently commissioned Sydney Nanoscience Hub at the University of Sydney, the symposium ran 6-9 December and was organised by SPIE, the international society for optics and photonics.
"It was an amazing meeting, exceeding our expectations, and was enjoyable, stimulating, and inspiring," said symposium chair Benjamin Eggleton, ARC Laureate Fellow and Director of the ARC Centre for Ultrahigh-Bandwidth Devices for Optical Systems (CUDOS), Director of the Institute of Photonics and Optical Science (IPOS), and professor of Physics at the University of Sydney. Program was coordinated by symposium cochair Stefano Palomba, senior lecturer at the University of Sydney.
More than 200 attendees heard nearly 240 presentations, including plenary talks by Michal Lipson (Columbia University) on silicon photonics, Fiorenzo Omenetto (Tufts University) on biocompatible devices, Gordon Wallace (University of Wollongong) on the future of 3D printing, and Peter Tuthill (The University of Sydney) on discovering planets using photonics chips.
"We celebrated the International Year of Light (IYL 2015) with a public lecture presented by Professor Lipson on the future of nanophotonics, and during the conference dinner we enjoyed entertainment from a fantastic didgeridoo player," Eggleton said.
The IYL 2015 lecture was part of a series sponsored by CUDOS to describe how scientific breakthroughs in the understanding of light have changed and improved lives.
Attendees also toured the state-of-the-art Sydney Nanoscience Hub, part of the Australian Institute for Nanoscale Science and Technology (AINST), including the clean rooms and laboratories. The institute opened in August.
The biennial conference covered nano- and microscale materials and technologies that are enabling new applications in photonics, energy, security, information, and medicine, and drew attendees from 19 countries.
Accepted conference proceedings papers will be published in the SPIE Digital Library as soon as approved, and will be available in print volumes.
About SPIE
SPIE is the international society for optics and photonics, an educational not-for-profit organization founded in 1955 to advance light-based science and technology. The Society serves nearly 264,000 constituents from approximately 166 countries, offering conferences and their published proceedings, continuing education, professional networking, books, journals, and the SPIE Digital Library in support of interdisciplinary information exchange and patent precedent. In 2015, SPIE provided more than $5.2 million in support of education and outreach programs. SPIE is a Founding Partner of the International Year of Light and Light-based Technologies and a Founding Sponsor of the U.S. National Photonics Initiative. http://www.spie.org