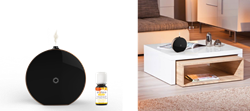 Marseille (PRWEB) December 21, 2015
Press release
Marseille, December 2015
During the next CES 2016, BeeWi in partnership with Innobiz will display its ZENITUDE product, a wellness connected accessory from its Smart Home range.
Zenitude
With its refined and contemporary design, Zenitude is the wellness unit of your home. It is an aromatherapy diffuser and also a sensor which controls and registers temperature, humidity and air quality.
The diffuser function uses cold nebulization, offering the best diffusing technology for essential oils up to now.
As it uses pure oils, without adding water or heating, this diffuser protects all the aromas and their therapeutic effects. The ZENITUDE diffuser includes a pump used in the medical field and a powerful diffusion chamber.
But why is this unit connected?
Thanks to a smartphone, a tablet or the use of the BeeWi communication gateway, and to the free SmartPad app, available for iOS, Android and Windows Mobile, the user will locally or remotely :

Control and save the temperature, humidity and air quality of a room instantly or during a set period.
Control, program and regulate the diffusion of essential oils in an easy and intuitive way, thanks to its simple interface
Order new bottles of oils when ZENITUDE informs him of the low level of oil left.
Switch on associated and set actions with other Smart Home BeeWi accessories (plugs, bulbs, trackers, sensors…)
Zenitude uses Bluetooth Low Energy wireless technology and is plugged to the mains supply.
Sizes: 13 x 13 x 4 cm
It should be available mid 2016 at the price of €69.
About Innobiz
Innobiz designs and develops essential oils diffusers for all the aromatherapy specialists for more than 10 years.
In relationship with many laboratories and aromatherapy experts, Innobiz has a strong expertise in the diffusion of essential oils and has created simple and efficient diffusers.
The partnership between BeeWi and Innobiz will even more ease the use of essential oils via the interface developped by BeeWi and by the data collected by humidity and temperature sensors.
BeeWi has selected the Aroflora range composed of pure essential oils or blends of pure essential oils which are 100% natural.
http://www.aroflora.com/20-huiles-essentielles
About BeeWi
As an expert of the connected objects for more than 5 years, BeeWi democratizes Wireless technologies, in order to set them at the very heart of our everyday life, to ease communication between terminals and enjoy the best of their functionalities. BeeWi products are spread mainly around Smart Home.
BeeWi capitalizes on the last Wireless technologies and offers simple, innovative, designed and affordable products for all. These values are at the origin of the creation of BeeWi and are strongly promoted by its founder, Thierry Dechatre.
For further information on BeeWi: http://www.bee-wi.com
Contact Media
Peggy Jacoulot
00 33 4 88 00 61 23
press(at)bee-wi.com