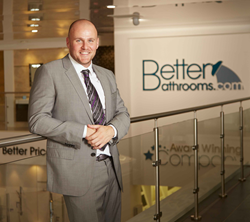 (PRWEB UK) 18 December 2015
New jobs created within the region
Over 5,000 products on display – internet prices in-store
Award-winning Better Bathrooms, the largest independent bathroom and tiles retailer in the UK, is to open its first Birmingham showroom on Boxing Day, 26th December.
The new showroom at Highgate Retail Park, Highgate Middleway, will be its largest showroom, guaranteeing them the largest bathroom and tile showroom in the UK. The new Birmingham showroom will create a further 10 new jobs for the area and also create a further 30 jobs within the company.
Leigh-based Better Bathrooms (UK) Ltd. whom won Employer of the Year at the National Business Awards 2015, takes the 35,000 sq ft retail warehouse on a new 10 year lease. Agents Thompson Heaney acted on behalf of the landlord Realis Estates Ltd. and Robert Pinkus & Co. LLP acted on behalf of Better Bathrooms.
Better Bathrooms boasts the largest showrooms in the UK, with over 5,000 products on display and offers internet prices in store. Open 7-days a week, till 10pm on weekdays, friendly and knowledgeable staff are on hand to offer help and advice.
The Birmingham Showroom Manager Simon Chadbund said, "'My team and I are hugely excited to bring our multi-award winning company into the West Midlands, with the largest bathroom and tile showroom in the company, boasting dedicated sections for Bathroom suites, accessories, tiles, hot tubs, and even lighting! Along with our friendly and helpful staff, we will make your dream bathroom a reality."
CEO and founder Colin Stevens said, "This is a fantastic achievement for me and Better Bathrooms –not only because it is our tenth showroom, but it is our biggest showroom to date and it has exceeded all my expectations. We pride ourselves on providing an exceptional buying experience for our customers, offering quality products at internet prices".
Area Manager for Better Bathrooms Pete Thornton said, "This is the first Better Bathrooms showroom in our area and it is a fantastic opportunity to bring high quality products and service to the West Midlands. We have a state of the art showroom and a great team in place to look after our customers. We look forward to welcoming you all".
Commercial property consultants Robert Pinkus & Co. LLP are Better Bathrooms' property agent for their new store acquisitions. Joe Assalone, Partner at the firm said, "Better Bathrooms looked at various sites in the locality but this particular property came out on top due to its prominent location within a well-established retail warehousing destination and its immediate access from the adjacent Highgate Middleway (A450), Birmingham's middle ring road.
"The success of the brand and the quality of the products offered by this retailer is the main facilitator behind the company's continued fast-tracked growth and we continue to search for properties across the UK that match what the Birmingham showroom has to offer."
In 2007, Better Bathrooms' annual turnover stood at just over £1m and in the last financial year the turnover was £49.5m. The company aims to double their growth over the next three to five years and the Birmingham store will be a big part of this. The sector leading company, has won 28 awards and including National Business Awards 2015 Employer of the Year.
The search for new retail sites continues with the well-established, well-funded company looking to secure properties from 15,000 to 20,000 sqft over maximum two floors in highly visible, easily accessible, non-prime retail locations throughout the UK.
To submit premises for consideration or to find out more about Better Bathrooms' target locations, please contact Joe Assalone at Robert Pinkus & Co. on 01772 769000 or visit http://www.pinkus.co.uk/clients-betterbathrooms.asp
For more information about Better Bathrooms please go to http://www.betterbathrooms.com.
Better Bathrooms Birmingham opens on Boxing Day, 26th December 2015.