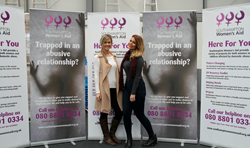 Poole, Dorset (PRWEB UK) 21 December 2015
With 1 in 4 women in the UK being a victim of domestic violence during the course of her life, the need for organisations, and individuals, who are able to provide helpful information, safe refuges, and guidance are mandatory.
Southampton Women's Aid is one such organisation. Helping women and children, in the Southampton area, fleeing from abusive relationships, for over 40 years, the charity provides invaluable help and advice to those in need.
2014 saw the charity help over 165 women, 95 children, and 50 young adults in the Hampshire-based city, who had been victims of domestic abuse. The dedicated team of passionate and knowledgeable staff and volunteers that help keep Southampton Women's Aid alive provide guidance and one-to-one sessions to victims, and those living in and moving from refuges, as well as delivering assemblies and workshops to over 1100 school and college pupils in the area.
This winter, Southampton Women's Aid have started an initiative to raise £200,000, in order to keep the charity providing this incredible service to the thousands in need, throughout the community. Fundraising campaigns include a Christmas Jumper Advent Calendar campaign, bucket collections in local schools, offices, and shopping centres, and a charity ball will be held in the New Year.
Poole-based exhibition stand contractors, Quadrant2Design, have donated five pull-up, portable banners to the charity, to help them in their fundraising events. The banners are adorned with two images, one set depicting a striking image of a woman's figure collapsing after an abusive attack, and the second set displaying text explaining how Southampton Women's Aid can help those suffering at the hands of domestic violence.
These banners will be used at events around the county, to promote the charity and the work they do, and will be used throughout the campaign to raise £200,000.
To learn more about Southampton Women's Aid, the work they do, and how to donate, visit http://www.southamptonwomensaid.org.uk, tweet @SotonWomensAid, and like http://www.facebook.com/SouthamptonWomensAid.
For a complimentary design consultation from Quadrant2Design, contact designteam@quadrant2design.com.