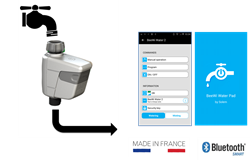 (PRWEB) December 22, 2015
Press release
Marseille, December 2015
During the next CES 2016, BeeWi will display its connected Water Control product.
Thanks to BeeWi, garden, flowers on balcony or kitchen garden will never miss water
Thanks to the successful technological collaboration between BeeWi and Solem, this connected water control is made in France and allows the user to control the watering of his garden easily, intuitively and efficiently
This device is adapted to all the simple irrigation uses.
Far simpler than the already existing products, it is controlled with an iOS or ANDROID smartphone via Bluetooth Low Energy thanks to the free WaterPad app.
By adapting consumption to the needs of thegarden, the product offers a responsible and sustainable watering, saving water and caring for the environment.
Quick setting
This control unit can be easily and quickly screwed on every plain garden tap, like a garden hose.
After having downloaded the WaterPad app on your smartphone/tablet, the Bluetooth just needs to be switch on.
Thanks to its simple and intuitive interface, the user can quickly choose between Watering or Spray and schedule the starting of the watering(s) at set times or days.
Thanks to this device, never forget watering anymore, and enjoy a beautiful blooming garden all year long.
BeeWi Water Control will be available early 2016 at the price of €69.
Watering mode:
-Up to 8 start times a day
-Adjustable watering time from 1 minute to 12 hours
-Cycles: week days, even/odd/odd 31, recurring from 1 to 31 days
-Rain Delay up to 15 days or permanent
-Manual start/stop
Spray mode:
-Spray time from 5 seconds to 24 hours
-Interval between starts: from 30 seconds to 31 days
-Up to 4 sequences a day
-Cycles: week days
This device uses a 9v battery, allowing a minimum 6 months autonomy.
About BeeWi
As an expert of the connected objects for more than 5 years, BeeWi democratizes Wireless technologies, in order to set them at the very heart of our everyday life, to ease communication between terminals and enjoy the best of their functionalities. BeeWi products are spread mainly around Smart Home.
BeeWi capitalizes on the last Wireless technologies and offers simple, innovative, designed and affordable products for all. These values are at the origin of the creation of BeeWi and are strongly promoted by its founder, Thierry Dechatre.
For further information on BeeWi: http://www.bee-wi.com
About Solem
Creator and manufacturer specialized in watering timer for 30 years, SOLEM offers a complete range of connected objects dedicated to the garden. With Wi-Fi or Bluetooth technology, SOLEM products enable to monitor the garden watering, the outside house lights , to manage a swimming pool, etc, directly from a smartphone.
SOLEM relies on its well-known expertise and experience in watering to offer simple, strong and plug and play solutions.
For further information on Solem : http://www.solem.fr
_____________________________________
Media Contact
Peggy Jacoulot
00 33 4 88 00 61 23
press(at)bee-wi.com