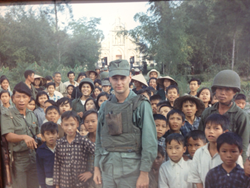 Dallas, TX (PRWEB) December 18, 2015
In his number one nonfiction best-seller and Oklahoma Book Award finalist, author Bob Ford provides a glimpse of how he helped make one Christmas especially memorable during a time of war thousands of miles from home. Ford was one of more than 2,000 Huey helicopter pilots during the Vietnam War who risked their lives in daily missions to protect and rescue troops on the ground. He recalls one Christmas in which he played a part in making the day special for the troops and the local Vietnamese children.
"The troops always came first with us. That Christmas Day, I changed my call sign to Santa Claus 2-1, and we began by taking hot turkey and dressing to five outposts," says Ford. "I heard Christmas carols playing in the background when I called in to one outpost just minutes before arriving, which gave me a quick, nostalgic chill."
Ford didn't stop there. He devised another, very personal plan to spread cheer in a warzone to the local children who loved the troops. "I returned to the base after dropping off several clergy at a local orphanage, and picked up a package from my hometown high school in Shawnee, Oklahoma because they sent me 200 packs of five-piece packages of Wrigley's gum," says Ford. "I turned to my partner and told him that I had an idea to hover low at the nearest town and toss individual sticks out of the helicopter down to the children."
Ford and his partner unwrapped each pack of gum and were all set until they flew by but they saw no children in the usual area of town. Discouraged, Ford started to head back to the airfield when their crew chief excitedly shouted over the intercom for them to turn the copter around.
"There, right in front of us, were hundreds of kids in the market square," says Ford. "The team started tossing out the sticks of gum. What a sight it was as 1,000 sticks of silver-wrapped gum floated down to all of the children, their hands reaching skyward. It was an incredibly joyful moment that we will never forget."
The team's final act of kindness came when his partner had another idea to bring Christmas to the troops. "We decided to tie red and green smoke grenades to both of the chopper skids, pull the pins and fly over our compound. We smiled and laughed like kids," says Ford. "It was a beautiful sight from the ground. I will always recall that Christmas Day as our most memorable."
"Today, we have thousands of military stationed in areas in which they can't be home for the holidays and I hope they know that they are true patriots and are not forgotten," says Ford. "My hope is that these brave men and women understand how grateful Americans are for their service and extreme sacrifice in protecting our country and our interests around the world."
About Brown Books Publishing Group (BBPG)
Founded by Milli Brown in 1994, Brown Books Publishing Group is a full-service, independent publisher of high-quality books across all genres, from nonfiction to fiction. Committed to producing award-winning books for authors who choose to retain the rights to their intellectual property, Brown Books publishes more than one hundred titles a year and has won numerous prestigious awards, including the Writer's Digest Grand Prize, Mom's Choice Award, Foreword Book of the Year, Gold Ink Award, Axiom Business Book Award and many more. Brown Books authors have appeared on programs and channels such as the "Today" show, Fox News, "Face the Nation," CNN and BBC News. They have been featured in publications such as USA Today, Publishers Weekly, and The New York Times. In addition, BBPG authors have been guests on NPR programming, including "The Diane Rehm Show," "Morning Edition," "The Takeaway" and "Tell Me More." To learn more, visit http://www.BrownBooks.com.
About The Agency at Brown Books (ABB)
The Agency at Brown Books is a full-service public relations, marketing and branding firm within a publishing house. As a subsidiary of Brown Books Publishing Group, The Agency is backed by 20 years of excellence and experience, and the one-of-a-kind, integrated platform is available to Brown Books' authors as well as to non-affiliated authors, established writers, entrepreneurs, CEOs and anyone seeking smarter strategies for building their business. For more information, visit http://www.TheAgencyAtBB.com.
For interviews or questions, please contact Vicki Morgan Vicki.Morgan(at)TheAgencyatBB.com or Alicia Auping Alicia.Auping(at)TheAgencyatBB.com with the Agency at Brown Books 972.248.9500.
More information can be found about the book at http://www.BlackCat2-1.com