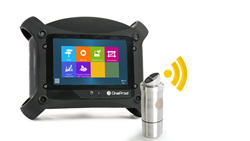 The ONEPROD brand is poised to disrupt the American predictive maintenance industry...
Richmond, Virginia (PRWEB) December 21, 2015
VibrAlign, Inc., exclusive US distributor of FIXTURLASER brand alignment products, is proud to announce a major expansion of its product offerings: The ONEPROD line of integrated condition monitoring products, developed by VibrAlign's (and Fixturlaser's) new parent company, ACOEM S.A. The ONEPROD brand, which includes the HAWK, FALCON, EAGLE, MVX, and NEST, is designed both to fill gaps in a facility's already existing predictive maintenance program and to serve as an all-in-one solution for facilities that are looking to start a program.
ONEPROD brand condition monitoring systems are used today by hundreds of industrial facilities in Europe, where the brand began more than 30 years ago serving the largest nuclear power company in the world. The rigorous standards of the nuclear power industry continue to drive the ONEPROD attention to quality, reliability and innovation.
The ONEPROD line features two portable tools, HAWK and FALCON, and two online systems, EAGLE and MVX. All four are supported and connected by the NEST software platform, which serves as an analysis and reporting interface as well as a database for measurement data. The NEST can be deployed either as a cloud-based app, installed to a server, or loaded onto a single computer.
Each ONEPROD tool is designed to fill a specific niche or gap in an overall predictive maintenance plan-of-attack. The HAWK takes the mystique out of vibration analysis by performing complex analysis algorithms in seconds to quickly deliver machine health diagnoses, all while the user is standing next to the machine. The FALCON, with its built in stroboscope, camera, and pyrometer, is an all-in-one portable toolbox for performing route-based vibration analysis. The EAGLE is a wireless online vibration and temperature monitoring system that can monitor machines in confined or hard to reach spaces remotely. The mighty MVX is a powerful and intelligent multi-channel data analyzer that gathers multiple data-types, including vibration, IEPE, and voltage, continuously in real-time. The NEST software allows each of these tools to communicate and share data with each other, creating an airtight, fully integrated condition monitoring program.
According to VibrAlign CEO David Zdrojewski, "The ONEPROD brand is poised to disrupt the American predictive maintenance industry by providing head-to-tail integration as well as a high level of flexibility that leaves no blind spots. This flexibility allows customers to purchase a single ONEPROD tool today to meet current needs, but always have the option to expand their ONEPROD toolset later. Each ONEPROD tool can function separately or as part of a greater ONEPROD predictive maintenance program."
The launch of the ONEPROD line of products represents VibrAlign's and ACOEM's unyielding commitment to the service and support of American industry. VibrAlign is now the exclusive U.S. distributor of the ONEPROD brand and will also continue to sell, train, and service the FIXTURLASER line of alignment and measurement devices.
About VibrAlign:
VibrAlign was started in 1983 as a vibration and alignment service organization and later became a distributor of equipment which, appropriately, equipped the company to better serve its customers. For more than thirty years, VibrAlign has been growing across the country. Today the company, headquartered in Richmond, VA and operating out of local offices in every major region of the U.S., is out to empower mechanics and Realign America.