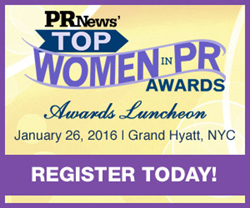 New York City, NY (PRWEB) December 21, 2015
View the Top Women in PR Honorees: http://www.prnewsonline.com/Top-Women-Luncheon2016?hq_e=el&hq_m=3192677&hq_l=1&hq_v=ac97a59e33#finalist
PR News' Top Women in PR list is comprised of the most influential women, the ones driving the agenda for the industry and in their companies‹women who have made bold advances in managing crises, developing brand messages, protecting and building brand reputations and creating content for digital platforms, for their own organizations or for clients. Honorees include such luminaries as Jennifer Connelly of JCPR, Katina Arnold of ESPN, Catherine Frymark of Discovery Communications, Anne Pace of Bank of America, and many more.
For more information or to register for the awards luncheon on January 26, 2016 from 12:00 to 2:30 p.m. at the Grand Hyatt in New York City, click here. Individual tickets along with tables of ten are available for purchase. Table purchases come with priority seating and ensure attendees are seated together.
To reserve a congratulatory advertisement in the program guide for the luncheon, attendees may visit http://www.prnewsonline.com/012616-luncheon-advertising or contact PR News' Account Executive Lindsay Silverberg at lsilverberg(at)accessintel(dot)com.
Be sure to join PR News the morning of the luncheon for an Emerging Communicators Workshop, also at the Grand Hyatt New York, that will give best practices in the foundational skills on which to build a successful communications career. View the agenda for the workshop here: http://www.prnewsonline.com/Emerging-Communicators-Workshop2016.
Contact PR News' Rachel Scharmann at rscharmann(at)accessintel(dot)com with any questions. For information regarding congratulatory ads in the program guide or to become an event sponsor, contact Lindsay Silverberg lsilverberg(at)accessintel(dot)com.