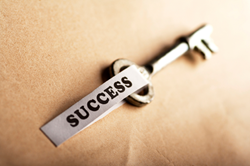 When it comes to setting goals, make sure they are challenging, but also realistic.
Montreal, Canada (PRWEB) December 19, 2015
The start of a new year is always a good time to reassess the successes and failures of the year before, and set an objective to achieve in the year to come. It could be a resolution to lose weight, pursue that dream job, break a bad habit, or otherwise strive for self-improvement.
However, why is that some resolutions set in January likely won't survive to March? A study conducted by researchers at Queendom reveals that goal-oriented people are not only better at motivating themselves, they're also more optimistic and confident.
Collecting data from 824 people who took the Emotional Intelligence Test, researchers at Queendom focused their analysis on two contrasting groups: Those who regularly set and achieve goals, and those who don't. Their study reveals a number of interesting personality differences:
SELF-MOTIVATION

Score for the goal-achieving group: (on a scale from 0 to 100): 76
Score for the complacent group: 51
Perhaps not surprisingly, goal-setters are good at finding the motivation to overcome obstacles and get things done. Even when they are aiming to reach a goal that could take months or even years to achieve, their level of motivation may dwindle occasionally but they stay the course. They know how to keep themselves going.
PROBLEM-SOLVING

Score for the goal-oriented group: 82
Score for the complacent group: 59
Whether it's coming up with a plan on how to achieve a goal or trying to determine how to deal with an obstacle, goal-setters always manage to find a solution. They face problems head-on and if their goal-achievement strategy doesn't pan out as well as expected, they won't give up – they'll just come up with a new a better plan.
STRIVING

Score for the goal-oriented group: 82
Score for the complacent group: 60
Goal-setters have a constant drive to learn new things and set bigger and more challenging objectives. For them, growth and self-improvement are a lifelong process. This doesn't mean that they are never pleased with their achievements - they simply hunger for knowledge and live to expand their horizons.
CONTENTMENT

Score for the goal-oriented group: 75
Score for the complacent group: 53
Some may argue that a goal-setter's desire to achieve more and more is a product of a deep sense of dissatisfaction with life, but this not the case. The goal-setting group is actually happier because their life has meaning and purpose. Clearly, having something to aim for means having something to live for.
POSITIVE MINDSET

Score for the goal-oriented group: 78
Score for the complacent group: 58
Rather than facing new and difficult challenges with dread, apprehension and/or self-doubt, goal-setters tend to hope for and expect the best. Even when dealing with disappointment, they always search for the good in a bad situation. They see failure as a lesson learned and as just another stepping stone to success.
SELF-AWARENESS

Score for the goal-oriented group: 76
Score for the complacent group: 56
While some people may choose to ignore or even deny their faults, goal-setters are not afraid to embrace the vulnerability that comes with being human. They are conscious of their strengths, but are also willing to accept the fact that they have room to grow, and take concrete steps to either improve or compensate for their weaker points. This awareness allows them to plan their life accordingly, and set goals that will push them slightly out of their comfort zone, but that will still be achievable.
SELF-ESTEEM

Score for the goal-oriented group: 71
Score for the complacent group: 59
Self-esteem governs many of the choices people make, from what they wear to the type of people they associate with to the career they choose to pursue. An important factor in the success of goal-setters is their self-esteem: They believe in themselves and in their ability to achieve. Moreover, unlike people with "Imposter Syndrome," goal-setters take pride in their achievements and believe that they deserve success.
IMPULSIVE CONTROL

Score for the goal-oriented group: 76
Score for the complacent group: 56
Goal-setters' willingness to stick to a goal and see it through to completion is a reflection of their exceptional self-control. Rather than switching from one unfinished goal to another or giving up when progress isn't forthcoming, they stay patient and focused. They're conscientious, determined, and resolute.
VALUES INTEGRITY & SOCIAL RESPONSIBILITY

Score for the goal-oriented group: 76
Score for the complacent group: 62
A person's value system forms the basis of every decision they make. Those who live by their values pursue aspirations that are meaningful and that have the potential to change their life, or the lives of others, for the better. Goal-setters don't take their aspirations lightly. Every goal or personal mission they strive for has a purpose; it means something to them.
INDEPENDENCE

Score for the goal-oriented group: 57
Score for the complacent group: 47
Goal-setters do not rely on others to push them to achieve or to determine which path they should take in life. They're decisive, self-reliant, and resourceful. They will not allow others to dictate how they feel about themselves, and if told that their dreams are impossible or unrealistic, goal-setters will be all the more determined to prove naysayers wrong.
"If the resolutions people set tend to fall by the wayside within a few months, they're either setting goals that are too high and unrealistic, or they're not nurturing the traits that can help them achieve their goals, like self-esteem and self-motivation – or both," explains Dr. Jerabek, president of PsychTests, the parent company of Queendom. "When it comes to setting goals, make sure they are challenging, but also realistic. So if you're aiming to lose 50 pounds in the next 30 days, or have made a promise to yourself to go to the gym six days a week without fail, then you're setting yourself up for failure. Give yourself a reality check, and set an objective that is reasonable for you at this time. That could mean striving to lose 10 pounds in three months instead, or exercising three times a week for half an hour. And make sure to leave yourself some wiggle room for setbacks, because everyone falls off the bandwagon at some point. You just have to dust yourself off and hop back on it."
"Your personality also plays a major role in your potential for success. If you know that you have poor impulse control and your resolution is to lose weight, for example, that can spell disaster. Nurture your willpower bit by bit. Start with easy substitutions. Trade sugar for Xylitol; mix half mayo, half yogurt and use it instead of regular mayo; enjoy a big fruit salad instead of cookies, swap bacon for chicken or turkey. Another important step is to start training your palate and learn to nuance flavors and experiment with spices. This means nurturing your inner gourmet, and gradually shifting from quantity of food to quality of good, or from an attitude of hoarding comfort food with a true appreciation of good food beautifully presented and enjoyed in moderation. At the very least, start by keeping a fruit bowl on the counter, and avoid buying junk food - or store it high or away to avoid visual temptation and to force yourself to make a conscious decision not to indulge. Most importantly, rather than denying yourself all your favorite foods and then beating yourself up for giving in to your cravings, allow yourself to have one cheat meal per week. It will satisfy your cravings and won't sabotage your healthy eating plan. People may also want to consider seeking the guidance of a life coach. They can help you start your year off right, and help you achieve those resolutions that you've set on January 1."
Want to assess your emotional intelligence? Go to http://queendom.com/tests/access_page/index.htm?idRegTest=3037
Is your approach to your goals conducive to success? Find out:
http://queendom.com/tests/take_test.php?idRegTest=699
Are your thoughts, emotions and behaviors helping or hindering your weight loss goals?
http://queendom.com/tests/take_test.php?idRegTest=3092
Professional users of the Emotional Intelligence Test can request a free demo of this or any other assessments from ARCH Profile's extensive battery: http://hrtests.archprofile.com/testdrive_gen_1
To learn more about psychological testing, download this free eBook: http://hrtests.archprofile.com/personality-tests-in-hr
About Queendom.com
Queendom.com is a subsidiary of PsychTests AIM Inc. Queendom.com is a site that creates an interactive venue for self-exploration with a healthy dose of fun. The site offers a full range of professional-quality, scientifically validated psychological assessments that empower people to grow and reach their real potential through insightful feedback and detailed, custom-tailored analysis.
About PsychTests.com
PsychTests AIM Inc. originally appeared on the internet scene in 1996. Since its inception, it has become a pre-eminent provider of psychological assessment products and services to human resource personnel, therapists, academics, researchers and a host of other professionals around the world. PsychTests AIM Inc. staff is comprised of a dedicated team of psychologists, test developers, researchers, statisticians, writers, and artificial intelligence experts (see ARCHProfile.com). The company's research division, Plumeus Inc., is supported in part by Research and Development Tax Credit awarded by Industry Canada.