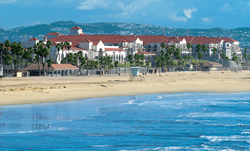 HUNTINGTON BEACH, CA (PRWEB) December 23, 2015
PR News has programmed a unique event 40 minutes outside of Los Angeles that combines social media, technology and interactive learning. The Social Media Summit on February 26 will connect communicators with the latest technology and tools to help them create successful campaigns and communications initiatives, and with digital communications leaders who will share the latest best practices in using the social media networks that matter most to their organizations and clients.
This full-day event will be held on February 26 at the beautiful Hyatt Regency Huntington Beach Resort and Spa. PR News will also hold a Visual Storytelling Boot Camp the day before the summit at this location, and reduced rates are available on two-day packages. Early Bird rates end February 5 and provide an added $100 discount on the full price ticket!
Early Bird Tickets: http://www.socialmediaconf.com
At this how-to-focused annual event, attendees will learn from and network with the brightest minds in social media, from a broad range of organizations‹b2c, b2b and nonprofit organizations. Speakers include: Scott Davis, SVP Digital and Strategic Planning, Weber Shandwick; Cynthia Johson, Director of Brand Development, American Addiction Centers; Sean Swentek, VP of Social Media, Opus Bank; Michael Brito, Head of Social Marketing, W2O Group; and Eric Brown, VP, Communications, Lithium Technologies.
These digital strategists will share insights, case studies and practical tips on how to leverage Facebook to tell your brand's story, develop relationships with key influencers in your market on Twitter, establish your brand on Pinterest and connect with its passionate user base, advance your career and connect with media professionals on LinkedIn, apply the latest SEO tactics and measure the results of your social media efforts to prove ROI. The early bird rate ends February 5.
Both the Visual Storytelling Boot Camp and the Social Media Summit will take place at the Hyatt Regency Huntington Beach Resort and Spa, where PR News has a hotel room block of $255/night. The hotel room block expires February 4 so book your room soon at this luxurious venue.
For more information or to register online, visit http://www.socialmediaconf.com.
If you are interested in sponsoring the event, reach out to Account Executive Lindsay Silverberg at lsilverberg(at)accessintel(dot)com.
For information about the PR News conference, please contact Director of Marketing Laura Snitkovskiy at laura(at)accessintel(dot)com.
ABOUT PR NEWS: PR News is a daily intellectual hub that serves the communications and marketing community at corporations, agencies and nonprofits. For more information, please visit http://www.prnewsonline.com.