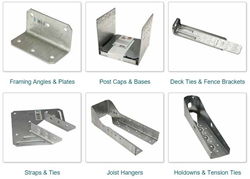 Urbana, IA (PRWEB) December 21, 2015
The product line expansion continues at E-commerce retailer FastenersPlus.com, with the addition of several Wood Connectors from Simpson Strong-Tie.®
A large assortment of connectors, including framing angles and plates, post caps and bases, deck ties, fence brackets, joist hangers, holdowns, tension ties, and straps make up the collection of 128 products in stock and available to order online. An additional 3000 products are also available by calling the company's sales team at 888-794-1590. Customers are also encouraged to call if they need custom options or price quotes for larger, bulk quantity orders.
Merchandise Manager Eric Youngblood says the new categories have increased the selection of Simpson Strong Tie Products to the largest brand on the FastenersPlus.com website.
"The Simpson Strong-Tie products are a best-selling brand for us; expanding into wood connectors allows us to be a one-stop shop for our customers," said Youngblood.
Other recently added Simpson Strong-Tie products on the FastenersPlus website include Acrylic Anchoring Adhesives, Epoxy Anchoring Adhesives and accessories, Quik Drive Systems and Quik Drive collated fasteners.
Youngblood says the company is currently in the process of adding more pole barn screws and hardware products to build out its categories of fasteners for metal building construction.
###
About Fasteners Plus
Fasteners Plus is an online specialty retailer offering a wide assortment of fasteners to contractors, business owners, and consumers. Combining high quality brand name hardware, tiered bulk pricing, and exceptional customer service, the company aims to offer customers a hassle-free shopping experience. Fasteners Plus is owned by Clickstop, Inc., an online retailer of niche brands in several different categories. Websites under the Clickstop company umbrella also include USCargoControl.com and EcoFoil.com. For more information, visit FastenersPlus.com.