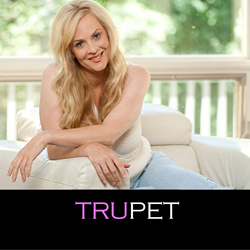 Cincinnati, OH (PRWEB) December 23, 2015
TruPet, the parent company of the fastest growing direct to consumer online brand TruDog, has announced its purchase of Orapup, the #1 dog breath brush in the world (http://www.orapup.com). With its signature Tongue Brush and two Lickies Gel Flavors, Orapup has the bragging rights of having 120,000 loyal customers acquired by leveraging YouTube to tell their story. Now with over 35 million views, the Orapup brand name has exploded in the pet care industry.
A match made in heaven for pets and the parents who love them, TruPet's flag ship brand TruDog boasts two of the top selling dental products in market called Spray Me and Gel Me. Pet lovers all over the world are raving about the change in their pet's teeth and breath after using TruDog's products.
Knowing the biggest barrier to your dog living longer is their dental care, the founder of TruPet was keeping her eyes and ears open to new ways to make dental care more fun for your dog and you. Finding Orapup was a dream come true. Finally, a super fun and effective way to introduce your dog to daily dental home care, which according to American Veterinary Dental Society, is the #1 way to help prevent doggy dental disease.
"Teaching your dog to let you take care of their teeth is easy with our super treats," says Lori Taylor, Founder and CEO of TruPet "but getting them to WANT you to do it – well that's a bit tougher. So when we were presented the opportunity to add Orapup to the TruPet family, we were like a dog with a bone - we couldn't resist. Having already sold over 450,000 units with a raving fan base (over 400 video reviews from dog lovers and vets alike!) made this a super easy decision. The most affordable way to add 2-3 years to your dog's life is better dental care."
TruPet will continue to grow Orapup in a strategic partnership with Molio, a creative and media agency with a YouTube first approach and the engine behind Orabrush and Orapup as well as several other brands. The Trupet | Molio partnership will focus on building TruPet brands and products. Together, TruPet and Orapup's products will change the way people care for their pets' hygiene and nutrition, allowing for a more effective yet convenient way to keep them healthy and living as long as possible.
Purchase with confidence on Amazon to find Orapup and TruPet's amazing products.
About TruPet
TruPet is an all-natural pet food and nutrition company based in Cincinnati. This family-owned company is passionate about pet health and wellness. With all of its products being natural and holistic, TruPet is changing the way people view their pet health. TruPet is the parent company to TruDog, which focuses on dog food and health. Visit http://www.trudog.com for more information.