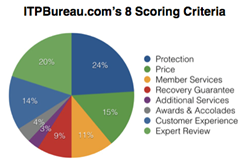 We know how difficult it is to make decisions on issues where you don't have expertise. So we've put together our rating system and review platform to help you leverage our years of experience and make the best decision for your protection.
Phoenix, Arizona (PRWEB) December 21, 2015
ITPBureau.com (ITPB) goes to market as an expert and peer driven resource to help consumers take the guesswork out of choosing an identity theft protection provider. Leveraging years of experience in the identity theft protection space, ITPB has developed a proprietary rating formula that evaluates 8 critical factors to assess identity theft protection providers. Their unique rating system scores providers on a scale from 1 - 10 (10 being the highest possible score). Additionally, ITPB allows its users to submit a 1 - 10 score for a company they have experience with and provide a written review. Customer scores affect the overall ITPB rating of each company as one of the eight criteria.
Identity theft has risen to the mainstream over the past 5 years and has seen a recent surge in interest as high profile data breaches occur with regularity. In today's digital world your personal information is rarely safe with hackers attacking retailers and organizations who retain information such as names, addresses, credit card numbers, banking information, and even social security numbers. As a result, identity theft protection is no longer a luxury but a necessity.
ITPBureau.com launches with reviews of over a dozen of the top identity theft protection providers including LifeLock, Identity Guard, ProtectMyID, and several others. New reviews are added regularly.
ITPB's mission is to help its users to find the best possible identity protection. ITPB's reviews and ratings are designed to provide pertinent information that assists in the decision making process for its users. Each company has been researched thoroughly to unveil all aspects of their service hat are relevant to customers. Since identity theft protection is a relatively new service and customers are unsure exactly what they need, ITPBureau.com is a great tool to take the guesswork out of making a very important decision to protect your personal information.