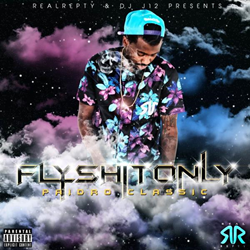 Oakland, CA (PRWEB) December 18, 2015
Today Coast 2 Coast Mixtapes announce the release of "Real Repty Presents: Fly Sh*t Only Hosted by DJ J12", the latest mixtape by Oakland recording artist Paidro Classic. The mixtape is currently available for streaming and download at the Coast 2 Coast Mixtapes website.
The mixtape features 19 tracks, including those below:
1. Fly Sh*t Only (Prod. Yodanonthebeat)
2. On 1 (Prod. Feezydisabangah)
3. Get Ya Roll Up (Prod. Feezydisabangah)
4. You'll Never Know (feat. Chippass)(Prod. Feezydisabangah)
5. All On Me (Prod. Feezydisabangah)
6. How It Go (Prod. Feezydisabangah)
7. Mo Money (Prod. Feezydisabangah)
8. Loaded (Prod. MikeDiggem)
9. So Bomb (Prod. Feezydisabangah)
10. Movie Script (Prod. YodanontheBeat)
11. If Its Good (feat. RBC Bugzy)(Prod. Feezydisabangah)
12. Keepin My Distance (feat. CloeyDntLove)(Prod. Tido Vegas)
13. Nomore (Prod. YodanOnTheBeat)
14. Twerk Sum (Prod. Feezydisabangah)
15. Hype (Prod. Feezdisabangah)
16. Gold Digger (Prod. Feezydisabangah)
17. Tell Me Why They Hatin (Prod. Feezydisabangah & Yodanonthebeat)
18. Is That Really Ya N**** (Prod. Feezydisabangah)
19. See Us On (feat. Repty Shotta)(Prod. by Yodanonthebeat)
Paidro Classic is currently seeking press opportunities, interviews, features, and more. Paidro Classic can be reached through his official Twitter page.
About Paidro Classic: Oliwjuan Marisett "Paidro Classic" also known as Olskoo of Real Repty's is a talented upcoming rapper from East Oakland, CA. At the age of seventeen Paidro became involved with music when a friend of his forced him to rap on a beat he made. It wasn't until he snapped his wrist in the eleventh grade while playing basketball that Paidro decided to take music seriously. While in the group "Real Reptys" with brother Killa Fresh, they've released 3 mixtapes including "Guard Ya Face", "the Lost Tape" and "Da Blocknoc Life with DJ Phyia". Although still a group, the two have spent time focusing on their solo careers. Paidro has been on a feature mixtape with Feezydisabangah called "WTTBB Presents Respect Is Taken Not Given" and is just released his debut project "Fly Sh*t Only", on 11.25.2015. Paidro describes this mixtape as his biggest project yet and has already received excellent feedback from fans on his music, Paidro wants to do what music has done for him and that is inspire. What he has been threw and overcome in life also inspires the lyrics in many of his songs. Fans can expect the unexpected because this time around he's going in like never before. For more music by Paidro Classic visit his official Soundcloud page.