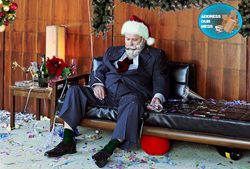 Corporate parties are a wonderful treat that allows people to relax and celebrate, but no one wants to be left with the dirty work of cleaning up after the event.
(PRWEB) December 21, 2015
It's the countdown to the holidays, and holiday parties are being planned and held each passing day. Many companies boost employee morale and reward them for their hard work with office parties. These company holiday parties add to the fun and boost employee relationships, but after the party is over, there may be a mess scattered about. Extensive planning takes place to make sure the event is perfect and can run smoothly; however, many may overlook the details of the after party cleanup process. Address Our Mess is offering services this year to help clean up after the office party is over.
Corporate parties are a wonderful treat that allow people to relax and celebrate, but no one wants to be left with the dirty work of cleaning up after the event. Address Our Mess recognizes this and believes that people deserve their break to relax and enjoy the festivities. This year Address Our Mess has decided to offer services catering to after party clean-up needs.
Qualified crew members will be able to handle the cleanup, no matter how messy things may have gotten. Trash will be cleaned up and removed, decorations and materials can be sorted and organized for continual use or discarded if desired, and a deep cleaning can be accomplished to bring the party venue back to its original conditions.
These services will be offered at our various East Coast locations throughout the United States. If a company is organizing a corporate party for the upcoming weeks, it is important to remember the details for after the party. The scattered garbage and leftover party evidence will be taken care of by the cleaning crew. From food to decorations, all items can and will be cleaned up accordingly. Also, as much as a company may try to avoid it, sometimes a party can get a little out of hand, especially if alcoholic beverages are served. Address Our Mess is also able to address any extensive clean up situations, including any filth that may be encountered.
Businesses in the east coast are now able to take advantage of Address Our Mess' specialty holiday party clean-up service. From trash disposal to venue sanitation, Address Our Mess is able to come in after the festivities are over and complete the cleanup, permitting party-goers (and planners) to unwind and have fun.