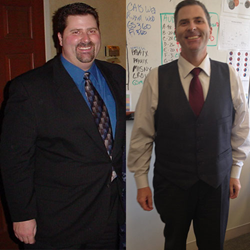 Dr. Feiz notes that the vast majority of the causes of obesity begin in the brain, but that does not make them any less real.
Los Angeles, CA (PRWEB) December 26, 2015
Bariatric surgeon Michael Feiz M.D., F.A.C.S., stresses that, when it comes to weight loss, our brains play an extremely large role in determining how easy or difficult the process becomes. Yet, according to an article published December 4th by the Huffington Post, the vast majority of dieters may not be thinking of their mental health as a factor in their weight loss success. In fact, the article explains that only one in ten survey respondents named mental health as a factor that may influence an individual's ability to lose weight. Dr. Feiz explains that, because our brains and hormones are so closely tied to how our body craves and responds to food, the slightest imbalance in our nervous system or state of mind can significantly impact both our mood and how that changes our ability to stick to the necessary components of a healthy lifestyle.
Dr. Feiz notes that the vast majority of the causes of obesity begin in the brain, but that does not make them any less real. He explains that, while nearly everyone knows that they would lose weight if they took in fewer calories than they burned each day, achieving this balance is far from easy. Dr. Feiz explains that our brain often sends signals to the stomach that are nearly identical to actual hunger, even when the body does not truly need more food. He also explains that these effects are particularly strong in patients who are currently dieting, due to the fact that the body interprets the decrease in caloric intake as a possible sign of oncoming starvation, so cravings increase in an attempt to get back to that person's usual intake level.
Even more, the study also showed that people are more likely to say that a lack of exercise is getting in the way of successful weight loss before they would say the same about the food they are eating. While exercise is surely important, Dr. Feiz explains that increased physical activity – while a truly excellent means of achieving overall good health and fighting obesity's worst impacts – can rarely be enough to match the weight loss benefits of cutting calories. He notes that the average, moderate exercise routine will typically only burn a few hundred calories, the effects of which can be almost instantly wiped out by eating a mid-morning donut. Dr. Feiz concludes that this focus on mental health is the very same reason why insurance companies often require patients have a psychological evaluation before having bariatric surgery.
Anyone interested in learning more about the qualifications for pursuing bariatric surgery, and the benefits that that surgery may bring, can call Dr. Feiz and Associates at 310-855-8058 or learn more online at http://www.DrFeiz.com.