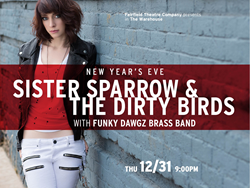 Fairfield, CT (PRWEB) December 18, 2015
After a fallout with their previously scheduled New Year's Eve show, the Fairfield Theatre Company is happy to swoop in and welcome Sister Sparrow & the Dirty Birds to ring in 2016 at The Warehouse.
This powerhouse of a band includes nine musicians, all of whom are dripping with talent. Front woman Arleigh Kincheloe has one of the biggest voices in the soul-funk business. Prepare to be blown away as she and The Birds record and tape their live album and DVD - right in Fairfield.
New Year's Eve in The Warehouse will include the Dirty Birds' blend of seductive soul and blues along with a special beer serving of Oskar Blues' Dirty Bird Backside Ale. Following with the annual FTC tradition, there will be a toast to the New Year at midnight.
All ticket holders will receive a free album code to download the live recording so they can relive the magic.
"Arleigh Kincheloe presides over eight musicians with smoldering intensity, and her body language is as sly and stirring as her bluesy voice," the New Yorker read.
For more information about the upcoming event, for music samples and ticketing information, visit http://www.fairfieldtheatre.org.
•••
Sister Sparrow & the Dirty Birds in The Warehouse at FTC
Thursday, Dec. 31
Doors: 8 p.m., Show: 9 p.m.
Tickets: $35 General Admission
About Fairfield Theatre Company:
Fairfield Theatre Company is a highly-acclaimed nonprofit performing arts organization located in the heart of downtown Fairfield, Connecticut. FTC presents nearly 200 performances and concerts each year featuring outstanding national talent on FTC's StageOne in Fairfield, the Klein Auditorium in Bridgeport, and the Norwalk Concert Hall FTC's intimate 225-seat StageOne venue is widely recognized as being one of the best places to see a live performance in the region. FTC is dedicated to providing the highest quality arts, entertainment, and educational experiences to the communities we serve.