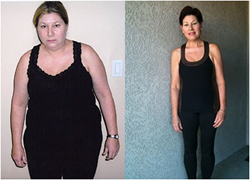 ...Weight loss surgery has helped countless patients lose far beyond the 13 percent of overall body weight that these benefits call for.
Los Angeles, CA (PRWEB) December 31, 2015
According to an article published December 10th in the American Journal of Managed Care, the reason that many patients experience remission of type 2 diabetes is due to the reduction of fat on their pancreas. The study explains that fat on the pancreas stops insulin from secreting from the organ into the bloodstream, and a reduction in this fat can lead to a return to normal insulin levels. Yet, the article notes that, because pancreatic fat is by no means the first to go when patients begin to lose weight, it takes a large amount of weight loss for pancreatic fat reduction to begin. The study estimates that patients need to lose 13 percent of their body weight before the fat on the pancreas decreases. According to Los Angeles bariatric surgeon Michael Feiz M.D., F.A.C.S., weight loss surgery has helped countless patients lose far beyond the 13 percent of overall body weight that these benefits call for. He explains that, with leading bariatric procedures like the sleeve gastrectomy, patients can lose an average of 50 to 60 percent of their excess body weight in the years following the procedure. Dr. Feiz notes that this weight loss also provides for numerous other health advantages including:

Lower Risk of Heart Disease – While the remission of diabetes represents perhaps one of the most significant health advantages of bariatric surgery, patients suffering from heart disease, the largest cause of death in America today, also have seen tremendous positive gains. Dr. Feiz explains that the connection between obesity and heart disease has long been known, and recent studies have shown that weight loss surgery is an incredibly effective way to achieve the advantages of no longer being obese.
Increased Mobility – Besides the negative health effects of obesity, Dr. Feiz explains that carrying all that excess weight can quite literally be holding people back. He notes that carrying all that weight can lead to chronic pain in weight bearing joints, and it can make it extremely difficult for patients to participate in activities or travel with friends and family that may require above-average mobility. Dr. Feiz explains that the inability to do these types of activities can be a tremendous burden on a person's mental wellness, an extremely important yet often overlooked aspect of a person's health.
For more information about how weight loss surgery can help patients with diabetes, as well as a wide range of other serious health concerns, call Dr. Feiz and Associates at 310-855-8058 or visit it online at http://www.DrFeiz.com.