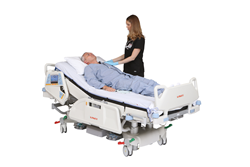 Adding Hercules to our innovative Multicare and Multicare LE bed frames now provides caregivers with an even more impactful solution to reposition patients safely and efficiently. -Colin Bain, President and CEO
Batesville, Ind. and Charlotte, NC (PRWEB) December 22, 2015
LINET and The Morel Company have entered into a distribution agreement for the Hercules Patient Repositioner, a patented system that allows a single caregiver to safely and easily move patients weighing up to 500 pounds up in bed with a touch of a button. LINET will offer this revolutionary technology on its Multicare and Multicare LE bed frames and on other existing hospital bed frames in the United States.
Traditional patient repositioning methods are time consuming, require multiple caregivers, account for the highest number of musculoskeletal injuries to nursing staff and are also uncomfortable and embarrassing for the patient, whose dignity is often compromised. Hercules allows an individual caregiver to automatically reposition a patient up in bed without the use of draw sheets or lifts, while minimizing factors contributing to pressure ulcers. Simply press a button and the Hercules sheet easily moves the patient to the ideal position in bed.
Additionally, the unique platform-based turn of the Multicare bed facilitates patient turns for routine nursing tasks, such as linen changes and wound care assessments. A gentle, controlled turn is less painful for the patient, safer and easier for a caregiver to perform and helps to increase compliance with Q2 turning schedules. The overall result: Hercules and lateral tilt make patient repositioning simple, safe and comfortable for both patients and caregivers.
"This agreement with LINET will make Hercules available to all acute care hospitals in the United States, accelerating the growth and adoption of Hercules, while helping reduce the alarming number of back injuries impacting the nursing profession today," said Bill Hillenbrand, President and CEO of The Morel Company. "We are excited about this relationship with LINET and look forward to bringing The Hercules Patient Repositioner to customers so their patients and caregivers can experience all the benefits Hercules provides first hand."
Colin Bain, President and CEO of LINET Americas said, "Adding Hercules to our innovative Multicare and Multicare LE bed frames now provides caregivers with an even more impactful solution to reposition patients safely and efficiently. Combining the lateral tilt functionality in our bed frame with the Hercules Patient Repositioner provides a best in class approach to patient care. This agreement provides LINET and Morel the ability to change the face of safe patient handling in the US."
LINET will offer these products to all major GPOs, IDNs, VA systems and independent hospitals in the United States.
About LINET
Founded in 1990, LINET is an international leader in healthcare technology with patient beds installed in over 100 countries. LINET offers a new and unique approach to the hospital bed market. LINET manufacturers innovative beds for the ICU and Medical-Surgical environments that promote patient and nurse safety, facilitate early mobilization, assist in better adherence to turning schedules, improve pain management and help reduce infection rates. Our products also come with an unprecedented 5-year warranty. The company's U.S. headquarters is based in Charlotte, NC. Please visit http://www.linetamericas.com for more information.
About The Morel Company
The Morel Company, privately owned and headquartered in Batesville, Ind. was founded in 2011 to help solve the longstanding and difficult challenges associated with patient repositioning. Founder, President and CEO, Bill Hillenbrand, is the inventor of The Hercules Patient Repositioning System which was recognized internationally as a Medical Design Excellence Award winner in 2014. For more information about The Morel Company and its products visit, http://www.morelcompany.com.