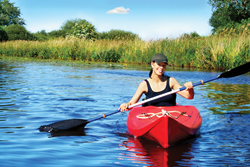 Pensacola, Fla. (PRWEB) December 21, 2015
Sugar-white sand, turquoise water and long, warm days make this Florida seaport a sun-bather's delight, but what about those who aren't content to spend their vacation lying down?
From a sunrise jog down the beach to a sunset paddleboard adventure where the dolphins play, Pensacola's natural beauty and subtropical climate make it a year-round destination for the active set.
To help visitors plan their trip, Visit Pensacola presents the active travelers' guide to the Pensacola Bay Area.
Running
Pensacola might be best known for her world-class beaches, but this colonial city is also steeped in history — having come under the sway of five different flags since Spanish conquistador Don Tristan de Luna first settled the area in 1559.
One of the best places to get a glimpse of this history is Palafox Street, in the heart of Downtown Pensacola. The thoroughfare was named one of America's great streets by the American Planning Association.
It must also rank among America's great runs. The road — flanked by historic architecture and flush with shops, restaurants and galleries — runs from North Hill one mile south. It dead-ends at the Plaza De Luna, a waterfront park with sweeping views of Pensacola Bay and the Port of Pensacola.
Just two blocks to the north of the plaza, the 1.5-mile jogging trail along Bayfront Parkway affords even more spectacular views of the bay, along with the chance to glimpse a few dolphins searching for breakfast.
Cycling
Just over Pensacola Bay from downtown and across the Santa Rosa Sound is Santa Rosa Island, where you'll find the Pensacola Beach Eco Trail, one of the most picturesque cycling treks in the region.
To the east of Pensacola Beach, the trail stretches out along 17 miles of pristine coastline toward Navarre Beach. To the west, it leads through nine miles of Gulf Islands National Seashore to historic Fort Pickens, located on the very tip of island.
The fort, where Geronimo was once held captive, boasts numerous trails and beaches, the ideal place to explore and recharge for the long ride back. The park is also home to abundant wildlife. Depending on the time of year, one might glimpse nesting sea turtles, dolphins, foxes or numerous species of migrating birds.
Just northeast of Pensacola lays the Edward Ball Nature Trail located on the University of West Florida campus. The nature trail winds through Thompson's Bayou, a beautiful hardwood swamp. Part of the Great Florida Birding Trail, a variety of songbirds and waterfowl can be seen throughout the year.
Paddleboarding and Kayaking
There are few things so relaxing as a paddleboard adventure at sunset.
The sport, which has exploded in popularity in recent years, serves as both a tremendous core workout and a relaxing meditation.
There are plenty of paddleboard destinations in the Pensacola Bay Area, but a hidden gem is Bayou Grande, in the Navy Point neighborhood. This protected inlet boasts calm water and miles of quiet coastline.
For an even more secluded experience, visitors can head a few miles west, to Perdido Key. The barrier island, called "Lost Key" in Spanish, encompasses Big Lagoon State Park, which is flush with nature trails and pristine beaches and marsh. The park is one of the best places in the region to watch the sunset.
A favorite spot for kayaking is Becks Lake Fish Camp and Wildlife Refuge, located off Becks Lake Road in Cantonment, just north of Pensacola. Becks Lake is an ecological treasure and one of the most beautiful natural bayous in the Southeast, fed from a natural spring off the Escambia River. Wildlife abounds in this freshwater reserve. The camp also features a park, nature trails and picnic area.
Hiking
The Pensacola Bay Area boasts numerous state and national park areas, which can make choosing an afternoon hiking trail a challenge.
A great option is the Tarkiln Bayou Preserve State park. This park has two trails. The half-mile Tarkiln Bayou Trail is more approachable, offering an ADA-accessible raised boardwalk. It meanders through prairie, cypress and titi forests, with benches providing areas for reflection and an observation deck at the trail's end, which provides panoramic views of the bayou.
The 6.5-mile Perdido Bay Trail is a bit more rugged. This trail crosses seepage streams and muddy areas, winding through oak and pine forests to the bay shore. The view is absolutely worth some soggy terrain, though.
For more information about staying fit in the Pensacola Bay Area, visit http://www.visitpensacola.com.
##
About Visit Pensacola
Visit Pensacola leads the effort of economic development through tourism in Escambia County. Comprised of over 150 member businesses, Visit Pensacola's mission is to position the Pensacola Bay Area as a premier year-round travel destination through tourism marketing, communications, meetings and conventions, reunions and group tour initiatives. For more information about Visit Pensacola, call 1-800-874-1234 (toll-free) or go to VisitPensacola.com.
###