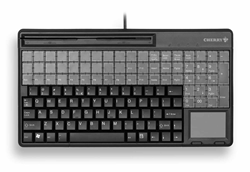 The new G86 MSR Encryption Series Keyboards are professional Point-of-Sale (POS) solutions for secure credit card transactions.
Pleasant Prairie, WI (PRWEB) December 21, 2015
Offered with and without touchpad in both SPOS 14.2" & LPOS 17.4" lengths, the new CHERRY MSR Encryption Series keyboards provide one of the highest levels of POS credit card protection against liability and fraud for dealers, VARs, integrators and their customers.
When a credit card is swiped through the magnetic stripe reader (MSR), the sensitive credit card data is encrypted immediately within the device before the data flows through to the computer and on to the relevant process service provider. This means that servers don't have to handle clear text credit card data, which prevents any security breach from accessing sensitive customer credit card information during or after the transaction process.
For more information, please visit http://www.cherrycorp.com or follow us on Facebook and Twitter. CHERRY – Innovation at your fingertips!
###
About CHERRY
CHERRY, a registered brand of ZF Friedrichshafen AG, provides high-performance sensors, standard and custom electrical switches, and computer input devices for the worldwide automotive, computer and consumer/commercial OEM markets.
About ZF Friedrichshafen AG
ZF is a worldwide leading automotive supplier for drive line and chassis technology with 121 production sites in 27 countries.
Contact
Allen Ustianowski
Sr. Product Line Manager
262-942-6408
allen.ustianowski(at)zf.com