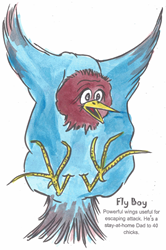 An exciting social event, fun for everybody except the losing roosters.
Kapaa, Kauai, Hawaii (PRWEB) January 07, 2016
Kauai, Jan 5, 2016:
Game designer Wil Welsh invented a table-top game called ChickenFightz to capture the raw excitement of live gaming without endangering roosters. Welsh is "hawking" ChickenFightz exclusively through kickstarter.com for a limited time starting the 6th of January, 2016.
In his non-vegan youth, Mr Welsh was no stranger to an occasional cockfight on the island of Kauai. He describes the experience as "an exciting social event, fun for everybody except the losing roosters." The first draft of the game sprung from that experience, some Kōloa Rum and plenty of Aloha for the chicken.
"Friends played ChickenFight a few times before it went into a drawer," said Welsh. In 1988, he wrote down all the rules but didn't bring the game out again until its recent resurrection with a Z. Encouraged by a friend, Debdoot Das, who designs video games, told Welsh that ChickenFightz is a viable table-top game.
The game consists of two unique decks of cards, one for injuries, one for healing those injuries. Using a dozen cartoon-like roosters with creative names such as "Chickity Doo Dah" and "Pullett Sir Prize," players gamble play money and compete to survive wing, leg, head and other injuries to win the pot. Side-bets are also part of the game.
Gaming or cockfighting or chicken fighting is illegal in all 50 states. However, the sport thrives underground and some locales reportedly even have annual cockfight events. Kauai has thousands of "wild" chickens that roam the island unchecked, often waking the residents up as early as 3 a.m.. Some say the hurricanes in 1982 and 1992 freed domestic chickens to join the descendants of Polynesian "moa" to create today's abundant chicken population.
"I'd love to see people playing the game of ChickenFightz rather than mangling unsuspecting birds," said Welsh. A retired teacher and administrator in Kauai schools, inventor Welsh has also been involved in many films made on Kauai, including a stint as stand-in for Harrison Ford playing Indiana Jones in Raiders of the Lost Ark and for Richard Chamberlain in The Thornbirds.
Welsh does not expect a pat on his back from PETA or the chickens even though no roosters are harmed in the game. In fact, Welsh contends, chickens may line up outside his door expressing their mahalos when former gamers give up actual cock fighting and play ChickenFightz instead.
To kickstart Kickstarter, the first 100 backers will receive the $25 game for $5. More information at kickstarter.com or at the website Chickenfightz.com.