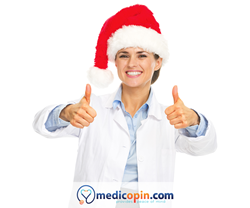 if you set just one personal goal for this year, then make your decision to be move more
New York / New York (PRWEB) December 23, 2015
Most New Year's resolutions are about health improvements. Medicopin.com, a global "online hospital" that provides expert diagnosis from actual doctors as well as an advanced medical archive system, has analyzed its data and offered up the Top-5 most efficient changes that one can make to improve their health exponentially.
1. Move More
Medicopin.com has determined that if you set just one personal goal for this year, then resolve to "move more." The good news is you don't need to be a member of a gym club to do this. "Moving more" means just that – implement movement into your life, through simple means. Take the stairs up to your office in the morning. You work too high up, on the 20th floor? Get off at the 15th floor and walk from there. Remember that moving more is your goal, not conquering a particular number of stairs! The positive and inspirational effects you will receive from simple daily increased muscle movement and boosted oxygen consumption are amazing and surprising.
2. Get Adequate Sleep
Sleep is one of the body's most basic needs for health and well-being, and the second-most commonly neglected after not staying active. Our work and personal lives often demand that we sleep much less than 8 hours, but sleep is much more than just "feeling rested" - good quality REM sleep is essential to the body's process of removing toxins and is essential in controlling body-weight. Medicopin.com's research has proven that disrupted, poor, little, and also excess sleep may seriously compromise immune system, cause dementia, distractibility, even body weight gain/loss independent of caloric intake. Snoring can literally shorten your life by many years and lead to many physical ailments due to poor sleep and impaired oxygen intake.
3. Learn How to Cook
Get into the kitchen. Nobody can deny that eating convenience foods is more practical, but based on the research from Medicopin.com, simply preparing one or two meals at home instead of eating out or heating up frozen food can significantly improve your health much more than you may expect. Even seemingly small things like making fresh oatmeal instead of using "instant" can put you on track to better health. (Consider using a rice steamer, which is versatile enough to cook everything from rice to oatmeal to couscous to lentils… it is a great time saver.)
4. Immediately Make Your Physician Visits That Were Previously Neglected
Don't postpone any more your physician appointments. You might have been reluctant to see a physician or you might not have enough time because of your busy schedule. No matter what the reason is, set all of your physician appointments as a primary goal. When was the last time you visited your dentist? When was the last time you had a colonoscopy? Did your gynecologist want you to get mammogram? It must be noted that today's tiny problems could turn into giant issues in the future.
5. Create Your Personal Health Archive
What was the name of the medicine that bothers your stomach? Once upon a time you had a CT scan - do you have any idea where did you put the results? What are your allergies? Keep your medical documents, medical history and health records absolutely organized and accessible, and one simple way that millions of people use is Medicopin's Medihis system. Remember that modern medicine works on early diagnosis and that tracking your changes and habits will help your physician to quickly identify potential problems – but only if you do keep track of it. The Medihis system is an efficient, effective health archival application that makes the process easy and streamlined.
Medihis is a high-security archiving system which allows users compile all of their blood tests and imaging results (such as MRI, CAT, endoscopy), their previous procedures and existing ailments, medications they use, genetic susceptibility to certain conditions and other vital information all in one place, providing quick and easy global online access, at any time. It allows their doctors easy access to all of their data, results and history wherever they have internet access, which is especially useful in the case of an emergency, when traveling abroad, or for obtaining a second opinion.