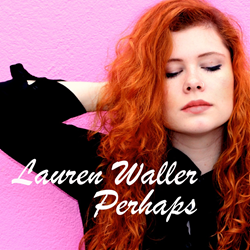 Brilliant, absolutely brilliant and from the heart!
Los Angeles, California (PRWEB UK) 21 December 2015
Lauren Waller is a Los Angeles based artist, singer, songwriter, performer, musician, producer, and stage manager. As a performer, she has previously shared the stage with several world-renowned musicians. Her powerhouse voice has been featured in NME music; Alert the Globe, Complete World News and Broadway World.
Lauren Waller celebrates the global happiness that music brings to its audience through genre melding music, storytelling narrative themes, and relevant messages that resonate universally. Lauren Waller's soulful, compelling voice, with a touch of grit, draws the listener to join in the journey through this satisfying release of substantive, straightforward, self-penned lyrics and layered, complex arrangements.
Lauren Waller's debut EP "Perhaps" consists of five alternative, Indie and Pop songs with an additional bonus acoustic track. The singles are noted below:
"Never Were" features an alternative Pop and Ska beat with a catchy melody and haunting lyrics
"100 Sleeps" is a sassy, pop rock song
"Blame" is a wry, contemporary/alternative ballad; a slow, smooth collision of frustrated emotion and lament with a blend of both country tones and classical strains
"Letter" is a rock ballad with orchestral and symphonic tones
"Breathe" has lyrics and an edge conveying a raw emotional struggle with a driving rock guitar sound.
"Letter" (acoustic)
Lauren Waller's EP "Perhaps" is slated for distribution and purchase on all steaming services in early 2016. "Perhaps" may be previewed now for free at http://www.laurenwallermusic.com
Music Supervisors: Contact Marshall Waller for licensing mwaller(at)feinbergwaller(dot)com