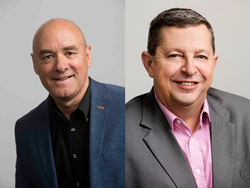 Campbell, Calif. (PRWEB) December 21, 2015
[24]7 announced today that it has appointed Richard Mellor and Peter Domjen to its leadership team, as the global leader in customer engagement solutions expands its sales and operations internationally.
Richard Mellor joins [24]7 as Managing Director, International, from Nuance Communications where as Sales Director, ASEAN, he was responsible for the company's regional expansion. Previously, he spent three years as the International Sales Director at Telisma, a leading provider of software speech technologies. Richard brings over 20 years of global sales experience to [24]7 and has been tasked with overseeing the growth of the organisation's global client portfolio. After eight years in Singapore, Richard will be based out of the [24]7 office in London, England.
"Brands in every corner of the globe are challenged with delivering an effortless customer experience and I'm thrilled to join an organisation that truly understands the need for contextual, predictive solutions," said Richard Mellor. "[24]7 is already rising to the challenge for many of the world's leading brands, and I look forward to helping the organisation deliver on its promise of radically changing the way companies provide customer experience."
Peter Domjen has been promoted to Managing Director, Australia after 18 months with [24]7 as Sales Director in the Sydney, Australia office where he successfully drove new logo client wins in the Banking and Insurance sectors and grew existing accounts. Peter is a globally experienced solutions seller and team leader. Prior to joining [24]7, he was a Senior Client Executive and National E-Commerce Director for IBM Australia where he sold hardware, software, services and line of business solutions to global enterprise accounts.
"Since joining [24]7, I've had the fortune of delivering omnichannel technologies to companies in a rapidly growing market," said Peter Domjen. "Customers' expectations with each and every brand interaction are on the rise, and I expect myself and the team to be at the forefront of this change and make a true impact in Australia."
Peter's deep product knowledge and experience deploying [24]7's solutions in this market will provide tremendous value to both current and prospective customers in the region.
In their new roles, both Richard and Peter will expand the company's presence, open new markets, and add new clients in the fast-growing EMEA and APAC regions.
About [24]7
[24]7 makes customer service and sales simple. Our platform and applications use big data and predictive analytics to understand customers and drive better service and sales results for large enterprises. [24]7's platform enables an omnichannel interaction experience. We connect customer interactions across an enterprise's web, mobile, chat, social, and phone channels. It's all in real-time and in the cloud. Our solutions drive immediate business results. We increase revenues, reduce service and sales costs, and create more satisfied customers. [24]7 serves the Global 100 market leaders in the Financial Services, Retail, Telecommunications, Technology, and Travel Industries. [24]7 is noted by Forbes as one of America's Most Promising Companies. [24]7 is based in Campbell, California. For more information, visit: http://www.247-inc.com.
[24]7 is a registered trademark of 24/7 Customer, Inc. All other brands, products or service names are or may be trademarks or service marks of their respective owners.