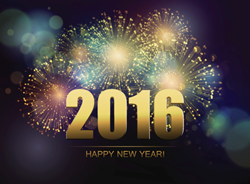 Hammond, Indiana (PRWEB) December 28, 2015
New Year's Eve is one of the top holidays for fireworks, second only to the Fourth of July in the United States. For those who want to head out to a major professional display, Dynamite Fireworks offers a list of the Top New Year's Fireworks Destinations around the globe. From a beach party in the Southern Hemisphere to the throngs in Times Square, Dynamite Fireworks has all the information.
For those who would rather put on their own display, Dynamite Fireworks is here to help. Now in its 40th year selling top-quality, name brand fireworks, the company has long prided itself on providing its customers with the information they need to safely plan and execute the perfect backyard fireworks show.
As New Year's Eve approaches, Dynamite Fireworks owner Kris Zambo wants to remind everyone that product knowledge and responsible handling are the keys to a successful display that will be remembered for all the right reasons. "Large, loud and high altitude aerial fireworks with multiple colors and effects are the most popular items for New Years fireworks displays," said Kris. "As these items typically contain the most powder and propellant, it's very important to take extra care with their set-up, launch and clean-up."
Fireworks stands are everywhere at this time of year, popping up along major highways from coast to coast. But how to know if the products will produce the desired effects, are of high quality, or are even safe and legal? From Dynamite Fireworks, here are six ways to ensure that a fireworks supplier is reputable.
First, find out what kind of experience the supplier has. How long has the company been in business? How many fireworks do they sell per year? Do they specialize in small home displays, commercial shows, or something else? Choose a supplier with a broad background and extensive experience with different types of fireworks.
Next, check out the company's reputation. Are there many repeat customers? Do people drive out of their way specifically to visit the supplier? Read online reviews, talk to other shoppers in person, and look for testimonials on the company's website.
Check the product quality. Top-quality fireworks can be safely stored for years under proper conditions, while poorly made fireworks are at risk for premature detonation or for something going wrong during lighting. Choose a supplier that only stocks trustworthy, name brand fireworks. Leave quickly if any illegal products, such as M-80s, are available, or if professional 1.3G fireworks are being sold to unlicensed consumers.
Talk to the sales team to get a feel for their knowledge. Creating an exciting backyard New Year's Eve display is an art, and most beginners need professional assistance with choosing just the right products. Look for someone who has the knowledge and experience to help plan displays, rather than someone who is simply trying to unload products quickly.
Every state, county, and city has its own fireworks laws, and it is important not to violate any ordinances. The supplier should have a detailed working knowledge of the local laws and should be able to steer customers in the right direction. Of course, those who travel a great distance to buy fireworks might find that the supplier is not fully aware of the laws in their home area. However, he or she should be able to discuss general concerns and explain where to find more specific information.
Good fireworks suppliers are concerned with keeping their customers safe and healthy, and are proactive about offering tips. If the supplier just shoves a bunch of products at shoppers without explaining how to safely use them, it could be a sign that he or she is not safety conscious. Be especially careful about purchasing large, potentially dangerous fireworks from such a supplier.
Fireworks are an integral part of New Year's Eve traditions around the globe. From the best professional displays in the world to backyard shows that will dazzle the neighborhood, Dynamite Fireworks is here to help. Kris notes, "Fireworks are a terrific addition for any festivity, especially a New Year's Party; however, common sense, caution and sobriety of the designated igniter are the keys to success and safety for all your guests!"
About Dynamite Fireworks
Less than 1 mile from the Indiana-Illinois state line, Dynamite Fireworks is the closest fireworks store to Chicago, and is open year-round. Visit Dynamite Fireworks at 4218 Calumet Ave, Hammond, IN. Call (219) 937-4090 for more information, or go to https://dynamitefireworks.com/.