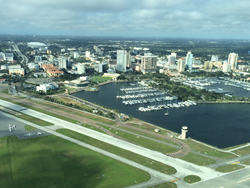 I believe the new service from Albert Whitted Airport to Fort Lauderdale will be welcomed by the residents of St. Petersburg and the surrounding area.
Fort Lauderdale, FL (PRWEB) December 21, 2015
Successful Florida based airline, Tropic Ocean Airways, is pleased to announce the launch of a new scheduled service from Fort Lauderdale to Downtown, St Petersburg. The official announcement was made during a press conference in St Petersburg on 17 December 2015. The new service, beginning 1 February 2016, will allow for business trips between Downtown St Pete and South Florida, as well as leisure travel for week and weekends trips.
During the press conference, Tropic Ocean Airways also announced a limited time Service Launch Sale for the new St. Petersburg scheduled route. Reduced price tickets can be purchased at a rate of just $399 round trip and a commuter pack of 10 round trip tickets for only $3750. Commuter tickets are transferrable and valid for nine months. All ticket prices include taxes and fees and can be purchased at the Tropic Ocean Airways website from now through to the end of January 2016.
During the press conference Tropic Ocean Airways CEO - Rob Ceravolo commented "I believe the new service from Albert Whitted Airport to Fort Lauderdale will be welcomed by the residents of St. Petersburg and the surrounding area. It will open up access to The Bahamas through our regular service connections from Fort Lauderdale Airport."
The new service will be operated by Tropic Ocean Airways new Wheeled Cessna Caravan Ex aircraft with executive style seating for up to 9 guests. The twice-weekly service will begin on 1 February 2016 and will operate on Mondays and Fridays with two flights per day.
Monday & Friday Scheduled Service
Depart FLL 06:30 – Arrive SPG 07:48
Depart SPG 08:24 – Arrive FLL 09:42
Depart FLL 16:00 – Arrive SPG 17:18
Depart SPG 17:54 – Arrive FLL 19:12
The announcement of Tropic Ocean Airways new service further establishes the success of the airline since it began in 2009. During 2015 Tropic Ocean Airways added several new scheduled service destinations and also expanded popular existing routes by adding extra flight days. Tropic Ocean Airways are set to continue their success and expand their services further in 2016 with new routes to be announced for The Florida Keys and destinations in The Bahamas such as Fresh Creek, Andros, North Eleuthera, Cat Cay, and more.
For further information on scheduled flights to Downtown St. Petersburg or to purchase tickets, please visit http://www.flytropic.com
About Tropic Ocean Airways:
Tropic Ocean Airways was founded by Navy Topgun fighter pilot Rob Ceravolo in 2009. As an FAA certified air carrier, the tropic family consists of experienced pilots, first-class sales center, and in house maintenance facility. Pilots with over 100+ years of combined flying experience operating in tropical and harsh environments make Tropic Ocean Airways a safe airline. Tropic Ocean Airways offers private charters to The Bahamas and throughout Florida and the Keys. Seaplanes are amphibious and able to perform water based, or runway landings and departures.
Contact:
Contact: reservations(at)flytropic(dot)com 1-800-767-0897 1-954-210-5569
For Media Enquires Email: media(at)flytropic(dot)com
Website: http://www.flytropic.com