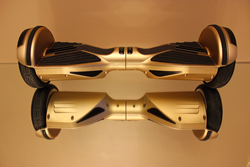 We believe the hover board is truly a revolution in personal transportation!
Utica, NY (PRWEB) December 22, 2015
A new hover board company called Bogie Board introduces a new series of hover boards that ensure user safety. Bogie Board was inspired by numerous incidents in which hover boards have caught fire or even exploded. "Every single one of our hover boards contain top of the line Samsung batteries, which means our hover boards will never catch fire or explode even in the most extreme cases!" claimed Bogdan Lashchuk, founder of Bogie Board. "We believe the hover board is truly a revolution in personal transportation, we would like to see it become accepted in our society as a safe, reliable, and efficient mode of daily transportation! Affordability plays a large role in this so we have made our hover boards available for the lowest price possible without sacrificing any quality or safety factors!"
Three different Bogie Board models are now available for pre-order on Bogie Board's website. Although, Bogie Board allows consumers to save even more when ordering through their Indiegogo Campaign which features prices as low as $299! Each model comes with LED lights, dynamic bluetooth speakers, remote, carrying bag and a one-year warranty. "Most other reputable hover board brands are scaring potential consumers away with their overpriced products, this puts pressure on these consumers to then shop elsewhere using services such as Amazon for a cheaper but more dangerous alternative!" explains Bogdan Lashchuk.
More information on Bogie Board can be found on http://www.bogieboarding.com/ and interested consumers can visit http://igg.me/at/bogieboard/x/13011528 for extra savings.
Contact Bogdan Lashchuk for even more information on Bogie Board!