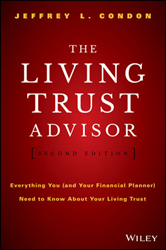 An Acquisitions Bible for public and school librarians nationwide. The New York Times
Los Angeles, CA (PRWEB) December 21, 2015
Written by the highly acclaimed, best-selling author of "Beyond the Grave: The Right Way and the Wrong Way of Leaving Money to Your Children (& Others)", renowned family inheritance attorney Jeffrey L. Condon has done it again.
Creating an effective living trust requires more than just printing out a "one-size-fits-all" draft and checking off a few boxes. In his new book "The Living Trust Advisor: Everything You (and Your Financial Planner) Need to Know about Your Living Trust, 2nd Edition", the author expertly guides readers and their financial planners through the process of making, living with, and maintaining a living trust.
Extensively revised and updated to reflect recent changes to the Estate Tax Law enacted since its first publication, this incisive book skillfully shows how to create a living trust that easily and seamlessly transfers a lifetime of accumulations to spouses, children, grandchildren, and other beneficiaries. While the subject of living trusts can be dry and complex, Condon's enthusiasm, humor, and easily understandable style leaps from the pages to walk the reader through creating an effective living trust, avoiding estate tax liability, preserving family relationships in the "Inheritance Arena," and protecting the heirs' inheritance from their financial risks and problems, thereby securing a future for succeeding generations.
"The Living Trust Advisor" uniquely breaks the living trust process into four football-like quarters. The First Quarter is titled "Establishing Your Living Trust." The Second Quarter covers "Living with Your Living Trust During the Lifetimes of You and Your Spouse." The Third Quarter discusses "Living with Your Living Trust after the Death of Your Spouse." And the final Fourth Quarter explains "Dying with Your Living Trust." There is also a "Postgame" part for "Review, Analysis and Lessons Learned."
Even with changing trends and evolving laws, the living trust will always be the main vehicle in America for the after-death transfer of assets to family. With The Living Trust Advisor, readers and their advisors can rely on its easy-to-understand explanations about everything one needs to know about the living trust … for eternal peace of mind.
With his late father, Gerald M. Condon, Jeffrey L. Condon is co-author of "Beyond the Grave", the biggest selling inheritance planning book in American publishing history. It was called "the best estate planning book in America" by The Wall Street Journal.
The New York Times called "Beyond the Grave" "An Acquisitions Bible for public and school librarians nationwide." Saturday Evening Post said, "To find out what the authors have to say about the most common squabbles and conflicts that occur when parents die and children divide the inheritance, read Beyond the Grave, while you still have time to put its wisdom to use, that is." Fortune Magazine noted, "If you have a family you love, poured your soul in building a business, and hate the idea of seeing the lion's share of your estate go to the taxman, you can not afford to die without reading Beyond the Grave."
About the Author: Attorney Jeffrey L. Condon has practiced in trust, estate, and probate law since 1987 at the Law Offices of Condon & Condon in Santa Monica, California. He is a frequent public speaker and commentator, having appeared on CNN, CNBC, PBS, CNBC, and nearly 100 radio and Internet programs. He has been the subject of over 100 newspaper, magazine, and Internet articles including Time, Money, Fortune, Los Angeles Times, The New York Times, Modern Maturity and Washington Post. He has conducted inheritance planning seminars for numerous organizations and charities throughout the United States, including Merrill Lynch, Charles Schwab, Financial Planning Association of America, and the Washington Holocaust Memorial Museum.
Author's website: http://www.condonandcondon.net
Facebook: http://www.facebook.com/BEYONDTHEGRAVEBOOK
Speaker's Bureau: http://www.harpercollinsspeakersbureau.com/speaker/jeffrey-l-condon
LinkedIn: http://www.linkedin.com/in/estateplanningexpertjeffcondon
The comprehensive new book THE LIVING TRUST ADVISOR: EVERYTHING YOU (AND YOUR FINANCIAL PLANNER) NEED TO KNOW ABOUT YOUR LIVING TRUST, 2ND EDITION (ISBN: 978-1-119-07394-9) is available Dec. 21 for $39.95 and can be ordered through the publisher, Wiley website: http://www.wiley.com/WileyCDA/WileyTitle/productCd-1119073944.html or at Amazon, Barnes & Noble and other online booksellers.