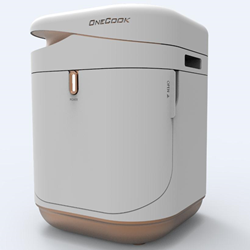 OneCook has announced its debut at the CES for Jan 6th 2016.
Boston, Massachusetts (PRWEB) December 21, 2015
OneCook has announced its debut at the Consumer Electronic Show for January 6th 2016. Members of the OneCook team believe they can transform the way we view cooking through OneCook. The OneCook is designed for those wanting a private chef without the cost or hassle. The team is expected to display how their automated cooker will allow users to be health conscious without the cooking headache. The smart software programmed into OneCook uses data about food nutrients and the cooking process to guide the user into reaching their health goals. This is the first robotic chef that doubles as a nutritional coach, social sharing platform and food delivery service. OneCook's debut will undoubtedly change the way we view healthy eating especially with a promise to make meals around six to nine dollars.
About OneCook
OneCook is the result of a desire to maintain a health conscious lifestyle for those limited by time or financial restraints. The unit has built in wireless capability for remote access at work, in the car or on the go. With refrigeration and defrost settings available one simply has to put the pre-packaged food into OneCook and let OneCook take care of any meal on your time. After you're done, you can rate your meal so that OneCook can automatically keep track of your favorites and even make suggestions for new meals. Share your favorites with your friends and family with the OneCook App. Download new recipes from your favorite chefs and restaurants. With OneCook you neither have to miss mom's cooking again nor worry about ruining her recipe. With data tracking OneCook ensures you know exactly how many nutrients you ate by partnering with your other health related apps.
About Tech-No-Logic
Tech-No-Logic was founded by Hanlin Hong in 2013. Headquartered in Boston, the robotic company wants to upgrade kitchen appliances that largely have not changed in 40 years. With five other top engineers, four patents already granted, others still pending, and growing investment, TNL has expanded from its humble beginnings of two engineers. Hong hopes to transform the way we live by making cooking smarter and easier. OneCook is just the start and the company hopes to integrate other home appliances in the future.
Say Hello to OneCook at CES 2016 @Las Vegas.
We're going to showcase the latest model of OneCook at booth #82621, on Level 1 of the Sands at the CES this upcoming January. You're cordially invited to come and join the OneCook demo day from January 6th to 9th.
For more information please contact Louis Zheng to RSVP with the dish you would like to try.
Visit OneCook today at http://onecook4.me/
Media Contact:
Louis Zheng
Phone: 865-607-2400
Email: louis.zheng(at)zspaceship(dot)com