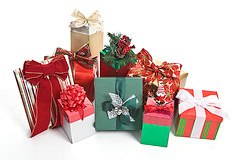 This time of year speaks to generosity in people, regardless of the holiday they are celebrating
Oakland, CA (PRWEB) December 21, 2015
Elfster.com, the top-rated Secret Santa generator, is proud to announce a new benefit from its website upgrade: success in supporting all types of holiday gift exchanges. While known as the dominant platform in the Secret Santa gift exchange vertical, the company has long supported all types of gift exchanges, whether religious or not, with its innovative Web platform. A gift exchange simply allows members of a family, company, or community to use the Internet in a one-to-one fashion to identify wanted gifts and to complete the exchange.
"This time of year speaks to generosity in people, regardless of the holiday they are celebrating," explained Peter Imburg, CEO of Elfster.com. "We realize, of course, that Christmas is the dominant religious holiday during December by sheer volume, but we are supportive and open to all types of religious and non-religious gift exchanges. We celebrate diversity in every way, and recognize that gift exchanges cross times, cultures, religions and every other aspect the might divide humanity." For 2015, the site has seen many exchanges for groups celebrating Hannukah, Kwanzaa, and Winter Solstice.
To explore the company's 'holiday-neutral' concept, please visit http://www.elfster.com/holiday-gift-exchange/. There one can read about how the system works, and set up a gift exchange system for a family, office, or any group. The beauty of elfster.com is that it provides the infrastructure to make gift-giving easier than ever.
About Elfster.com
Elfster is the Web's top-rated online Secret Santa generator. Participants use the company's tool to organize a holiday gift exchange of any type, learn Secret Santa rules or how to play, organize family, office or friends and generally keep track of your holiday or Christmas gift exchange all conveniently online. Elfster makes it easy, free, and fun!
Elfster.com
http://www.elfster.com/