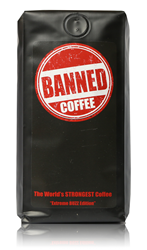 Like blue meth, but legal... and tastes way better.
Irvine, California (PRWEB) December 21, 2015
When trying to find the world's strongest coffee, a trip around the world may not be needed. In fact, people don't even need to leave their home. A quick search for "The World's Strongest Coffee" at Amazon, and there it is, a simple black bag with the red wording 'Banned Coffee,' along the top, reminiscent of the type of packages smuggled into some countries.
Further down the front of the bag it reads, "Extreme Buzz Edition." This should be a warning to those not ready for a Magnitude-10-level surge of energy.
For those thrill seekers looking to caffeinate their blood, this may be the morning beverage they have been seeking. Drinking Banned Coffee should be put on the same bucket lists as:

Shark fishing without a boat
Spelunking into active volcanoes
Bear hunting with only a fork
Despite its name, Banned Coffee is fully legal in the USA and is currently only available for sale on Amazon. Containing up to three times the caffeine of many popular coffee brands, Banned Coffee is the world's strongest coffee.
"We set out to make gourmet coffee that was incredibly rich and flavorful. We achieved that goal and more. We ended up with a fantastic tasting blend that turned out to be the strongest coffee in the world," said Terry Rossi, co-founder of Banned Coffee.
One might think that the branding and name were carefully calculated. But it has a much simpler origin. During heavy taste tests of their final blend, one of the founders jokingly shouted out, 'Wow, this is really, really strong. It will probably get banned. It will be the first ever Banned Coffee!' Alas, the brand was born.
Everybody wants what they can't have, especially if it's #1 for something in the world. This makes Banned Coffee the perfect Banned Christmas Gift.
ABOUT BANNED COFFEE
Proudly roasted in the USA and with more than 60 years of combined coffee experience, Banned Coffee is committed to energizing all coffee lovers with a fantastic tasting coffee blend found nowhere else.
For more information on this morning energy drink, or for media inquiries, contact Terry Rossi, Co-Founder at Banned Coffee, at 888-393-4463, or at media(a)BannedCoffee(dot)com.
Learn more at http://www.BannedCoffee.com/