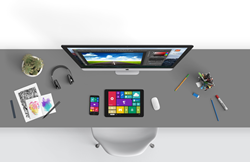 Torino, Italy (PRWEB) January 04, 2016
Waiting for the Post-PC revolution that never comes, startup Actions s.r.l. releases Quadro for iPhone and iPad, proposing an alternative take on productivity software for desktop computing.
Quadro app is a personal interface to interact and control computers through touch. It transforms Apple mobile devices into smart controllers for Mac and Windows computers, to accomplish any digital tasks through touchable shortcuts.
No keyboard shortcuts to learn nor menus to browse to launch commands, with Quadro everything on the computer is controlled with a tap on the iPhone or iPad. So users can easily:

launch and interact with every native or web application
automate cross-application actions
perform online researches with search automations
- automate cross-platform and cross-application tasks and data transfer

edit text and manage communications
quicken the change of context, from task manager to chat, from documenting and note-taking to web browsing
- help the process of learning software 
What people can do with computers has gotten more and more complex, although users have been working in the same way for decades: with keyboards and mouse. Getting to know Quadro means taking a step into the upcoming era of professional computing, with mobile devices streamlining desktop workflows - as it is clearly displayed in the app's video trailer.
The rise of novel input methods in not only necessary, but highly anticipated by App Annie's top app predictions of 2016, blog posts and research papers.
Photographers, video makers, designers and musicians will be the core audience benefitting from using Quadro, although it is designed to fit inside any serious computer user's workflow.
By changing the way people interact with computers, Quadro makes the gap between ideation and execution shrink so users can stay easily focused on the task, speed up workflow and boost their creativity.
Available in 9 languages, Quadro is free-download and includes 50+ built-in presets for the most popular professional and consumer softwares, such as: Lightroom for photographers, Photoshop for illustrators, Sketch for designers, Ableton Live and Bitwig for sound engineers and designers, Final Cut and Premiere for video makers, Evernote and Slack for team members, Powerpoint for entrepreneurs, Tweetbot and Mail for media strategists, PR and journalists, Spotify and VLC for the casual user.
The tool is completely customisable thanks to +1600 icons, backgrounds and infinite actions to choose from.
To create and share custom-made presets and automations, users can get a pass for the Quadro premium subscription (Annual $19,99, Lifetime $49,99 - launch offer).
Technical details
App Name: Quadro
Category: Productivity
Languages: English, Spanish, German, French, Italian, Portuguese, Japanese, Chinese (simplified and traditional)
Price: Freemium / Premium features via subscription
Release date: 18 December 2015
Developer: Actions srl
Platform Distribution: iOS
Available on iOS 8-9 devices
Compatible with iPhone 4s and iPad 2 or newer models.
Optimized for iPad Pro and iPhone 6+.
Works with Mac (OsX) and Windows computers.
Controls every software and web application.
About Actions s.r.l.:
Quadro is a product of Actions srl, a small tech startup based in Turin, Italy, and founded by Cristiano Troffei and Enrico Cirone in 2014. Actions srl is currently incubated at I3P, the Polytechnic University of Turin's accelerator, and has raised seed capitals from p101 and CII2.