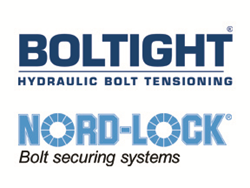 We are very pleased to present the Boltight hydraulic tensioning system. Boltight is a great addition to the Nord-Lock Group portfolio, putting us in the right direction of being the leader in bolting solutions
Las Vegas, Nevada, USA (PRWEB) December 23, 2015
Power-Gen International is the largest power generation event that focuses on the latest product trends and innovations within the industry. This year, the event was held in Las Vegas, Nevada (USA), from 8th to 10th of December. The participation of the Nord-Lock Group was an important event as it was the first public showcase of Boltight hydraulic tensioning since the company's acquisition in September this year.
The extensive range of bolting solutions from the Nord-Lock Group was displayed during the three days event, which attracted crowds of visitors to the booth. Visitors were able to interact with Nord-Lock engineers and catch the live demonstration of the bolting solutions, which include Nord-Lock wedge-locking washers, Superbolt Multi-Jackbolt Tensioners and Boltight hydraulic tensioners. Nord-Lock bolting experts also presented the application references and benefits of each product line within the power generation industry. Boltight was a highlight, generating huge interest from many visitors as these innovative products are commonly used in applications on steam, gas, wind, hydro and tidal power generation plants.
"Power-Gen International is one of the most important shows for the Nord-Lock Group. We are very pleased to present the Boltight hydraulic tensioning system. Boltight is a great addition to the Nord-Lock Group portfolio, putting us in the right direction of being the leader in bolting solutions," said Ola Ringdahl, CEO of the Nord-Lock Group.
About the Nord-Lock Group
The Nord-Lock Group specializes in bolt securing and bolt tensioning systems. The combined strength of the Nord-Lock wedge-locking technology, the Superbolt mechanical tensioning systems, and the Boltight hydraulic tensioning systems creates a wide range of safe bolting products from the Nord-Lock Group. For more information, visit http://www.nord-lock.com