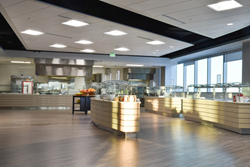 "The collaboration and inclusiveness of the total workforce was magnificent." -- Des Hague, Co-Founder of Aegis Enterprises and Partner of WC&A.
(PRWEB) December 22, 2015
Des Hague, Co-Founder of Aegis Enterprises and Partner of WC&A, is pleased to announce the completion of the new corporate headquarters of CoBank, WC&A's latest foodservice planning and design project. About 600 of the bank's employees celebrated the grand opening of the bank's new corporate headquarters last week in Greenwood Village, CO which is part of the Denver Tech Center. CoBank, an agricultural cooperative bank and member of the Farm Credit System which serves agricultural clients in 23 states across rural America, had been in its previous building for 30 years, also in Greenwood Village. The LEED Silver certified structure sits 11 stories tall and totals 245,000 square feet. Employees helped design the interior of the new building, with special attention to work space and co-working space. For more information: http://goo.gl/PC5JqP.
WC&A designed and managed the construction of the new kitchen and corporate cafeteria for the new CoBank Corporate Headquarters. The new kitchen includes walk-in cooler and freezer as well as dry storage, attached to prep area and fully vented bulk cooking area. Back of the house includes Energy Star, high efficiency conveyor dishwasher with accessible dish drop area. Multiple work and food preparation areas are provided for fresh food portioning and seasoning. The cafeteria – a natural extension of prep/bulk back of the house cooking - offers finish cooking, exposed to patrons.
There are various grill elements with open flame char broiler and flat top griddle as well as traditional deli and pizza stations. For Italian food lovers there is a fully served pasta station and specialty food area which offers a rotating menu, depending on chef's creative inspirations. The center of the CoBank Cafeteria offers self-service soup and salad bar as well as a fully loaded grab-and-go component for those who are in between meetings or conference calls. Finally, for community activities, WC&A positioned an open flame grill on a deck, just outside the cafeteria.
"This was such an awesome assignment to work on," stated Hague. "Everyone at WC&A thoroughly enjoyed the vision laid out from the initial meeting on; the collaboration and inclusiveness of the total workforce was magnificent."
About WC&A, Inc.:
William Caruso & Associates, Inc. specializes in commercial food/beverage and laundry facilities planning and design services. Headquartered in Denver with offices in Athens, Berlin, Duesseldorf, Philadelphia, San Francisco and Scottsdale, WC&A has completed over 12,000 projects in 35 countries, an unmatched record in a very specialized industry. WC&A's diverse project portfolio includes completed food and laundry service facilities for hotels, universities, schools, correctional systems, hospitals, corporate headquarters, convention centers, stadiums, arenas, and others.
For more information about WC&A: http://www.wcarusoassoc.com
Contact: Renate Siekmann
William Caruso & Associates, Inc.
8055 East Tufts Avenue, Suite 1320, Denver, CO 80237
Phone: 303.649.1600 x211
Email: rsiekmann(at)wcarusoassoc(dot)com
About Des Hague
A renowned executive with over twenty-five years of leading global public and private companies, Des Hague has established himself as an innovative thinker in the international business world. His forward-thinking approach pushes companies toward sustainable growth, granting them a position as resilient competitors within their respective industries. Hague most recently was the CEO and President of Centerplate, Inc, the largest event hospitality firm in North America. source: http://deshague.com . Hague also serves on the boards of DVETelepresence, PING HD, WC&A, Inc, and the Stamford Youth Foundation along with advising on several start-up ventures.
Along with his professional projects, Des Hague contributes significant amounts of time and energy to non-profit charitable work. Hague has helped raise more than $100 million over the past few years for many non-profits, including the Stamford Youth Foundation, a local organization offering multiple after-school programs for young people, and The Journey Home, a Baltimore-based Foundation fighting homelessness. Hague views AEGIS, LLC. as a perfect blending of business and philanthropic activities.
For more about Des Hague, visit: http://deshague.com, http://deshaguereviews.com
Des Hague - LinkedIn : https://www.linkedin.com/in/deshague
Contact:
DesHague.com
EMail: deshague(at)aegisenterprisesllc(dot)com