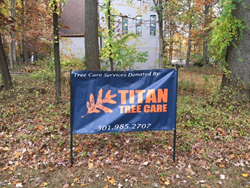 We like to think outside the box - put ourselves in our client's shoes so to speak, and find something meaningful to the community while also building our brand
Gaithersburg, MD (PRWEB) December 22, 2015
In the Fall of 2014, Titan Tree Care began brainstorming ideas for how to connect and give back to the community, and to establish relationships with local companies, organizations and people in general.
When considering their client base, the properties Titan Tree Care prefers to work on and the individuals and organizations they choose to do business with, they always came back to the idea of spaces that foster community, and build trust and relationships within their community. The company also realized that while many of these kinds of organizations and spaces could use their tree care services, they may not have the budgets to do so -- churches in particular.
The initiative truly came to life in May 2015, when a property owner of a large segment of Maryland land needed some help. Titan Tree Care removed a large section of a hard-to-manage invasive species commonly called bamboo, which is an undertaking that required an entire day, a three-man crew and equipment.
More recently, in October, Titan Tree Care worked with an Episcopal church in Great Falls, Virginia. In addition to donating a plant health care treatment to 26 dogwood trees on the property, the company also donated a complimentary consultation with a certified arborist for the silent auction at the church's Country Fair event. The company has donated similar tree care services earlier in 2015 to other churches in Fairfax County, VA and Montgomery County, MD.
"Personally speaking, it's great to get to know the folks who manage and run the groups we've been working with, they are our neighbors and we share so many of the same goals and values. It's very rewarding to know we are making a difference for them while also building our company's reputation throughout the communities where we live and work," said Carrie Bowes, Business Manager of Titan Tree Care.
Over the past several months, the company has devised a strategy for their donation of services. Ultimately, Titan Tree Care has created a plan where, in exchange for their services, the organization will post a banner indicating that the work was done and donated by their company. Titan Tree Care feels that this is a creative and more practical approach to marketing. Although it is a non-traditional method, this visibility in community spaces will hopefully lead to connections made between prospective clients throughout these communities and Titan Tree Care.
This is not only an effort to start building trust and relationships in the community, but to raise awareness of the company and the services that Titan Tree Care offers.
"We like to think outside the box - put ourselves in our client's shoes so to speak, and find something meaningful to the community while also building our brand," says company owner, Ben Simcox. Titan Tree Care hopes that people are inspired by their good works and will continue to build similar relationships with them and other organizations in the community.
Titan Tree Care also has an initiative to create Arbor Day projects for schools that will further develop in the coming year; they feel that schools and churches are great places to start building and maintaining relationships with the community as a whole.
About Titan Tree Care
Titan Tree Care offers professional and high-quality tree care for area residents. Their services include tree pruning, tree removal, deep root fertilization, integrated pest management and more. Their Certified Arborists can help ensure that your trees stay healthy and beautiful all year long. To learn more, visit http://www.titantreecare.org.