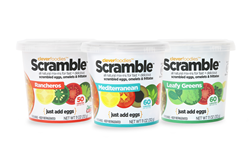 Burlington, Vt. (PRWEB) December 21, 2015
CleverFoodies™ is excited to pioneer an entirely new category for the dairy aisle with the launch of Scramble™, an innovative line of small-batch cooked mix of vegetables, herbs and spices you just add to eggs. The category-creating new product recipe was specifically concocted to pair with eggs. Simply add Scramble™ to eggs for tasty, nutritious scrambles, omelets, and frittatas that are ready in minutes.
Scramble™ is available in three colorful, savory flavors: Leafy Greens, Rancheros and Mediterranean. With no more than 60 calories per serving, Scramble™ contains all-natural ingredients, is gluten-free and does not have any sugar added.
"At CleverFoodies, our goal is to make fast, delicious, healthy meal-solutions," said Warren Wilson, Jr., Co-Founder of CleverFoodies. "We created the Scramble recipe to pair specifically with eggs. Foodies can easily add in our mix of flavorful vegetables, herbs and spices to prepare nutritious, gourmet dishes, any time. There is no comparable product like it on the market."
Currently, Scramble™ can be found at more than 2,000 retailers nationwide, including all Publix and Price Chopper/Market 32 supermarkets, as well as many ShopRite locations. Scramble™ will also be available soon at Target and Stop and Shop. Each Scramble™ flavor retails between $3.99 – $4.99, and shoppers can typically find it next to the eggs in dairy aisle.
For a list of clever recipes using Scramble™, including crowd-pleasing egg dishes, pizza, sandwiches, snack dips, and more, go here: http://www.cleverfoodies.com/recipes/.
About CleverFoodies™ Scramble™
Started in 2014 by Co-Founders Warren Wilson, Jr., Paolo Volpati-Kedra and Marc Gascon, CleverFoodies™ believes that good food doesn't have to be complicated. The self-funded start-up is excited to bring something new to the dairy aisle with their category-creating Scramble™ line. The small-batch cooked mix of vegetables, herbs and spices helps fit foodies and families prepare fast and delicious scrambled eggs, omelets, frittatas, and more. Headquartered in Burlington, Vermont, CleverFoodies™ has gained fast distribution and will continue to roll out in thousands of national retailers over the coming months. Follow CleverFoodies™ @CleverFoodiesScramble on Facebook, @CleverFoodies1 on Twitter, and @CleverFoodies on Instagram and Pinterest.
To learn more, go to http://www.CleverFoodies.com.