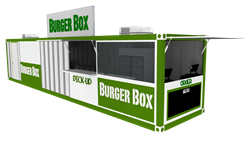 Shipping containers are the future of building for the modern age.
Santa Barbara, CA (PRWEB) December 21, 2015
The food service and retail industry is constantly "thinking outside the box" and the concept of an eco-friendly, vendor-driven company is the way to go in these modern times. Container Concepts™ designs, builds, and sells modified, recycled, shipping containers to be used as semi-permanent and permanent, fully turn key, restaurants, bars, retail shops, and much more. You just have to be creative. Santa Barbara based local, Robb Ferer and partner AJ Barker (Seattle), both restaurant consultants, founded Container Concepts™ as a company which provides turnkey eateries for businesses wanting to build a modern styled space, or test a new concept, or expand their brand in a sustainable and affordable way. Check out the new website for a full list of options, as well as renderings of different box models and more about the company at http://www.conceptinabox.com
"The containers can be used "on-the-grid" or "off-the-grid" and provide economic viability where it may not have existed before", said Ferer. They are very versatile and can be used to build food or retail hub in a growing neighborhood, can be positioned on the side of the road as fruit and vegetable stand, and it can be a temporary site of a future development on a vacant lot. Use your imagination and it is readily available.
Installing these containers is made simple allowing the client to work directly with interior and exterior designers to suit their dream business or home container. Some of the options available to outfit your personal container are: roof-mounted, solar panels, hydraulic doors, fold or swing-out awnings and sections, HVAC and much more. Depending on the complexity of the concept, they can be completed in approximately 6-10 weeks.
"The versatility and low cost of using the containers allows for many opportunities as a unique, innovative vehicle to expand into new markets or local events," Ferer says. These container boxes provide an eco-friendly and inexpensive vending and marketing solution for independent operators and brands.