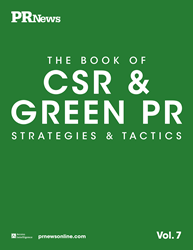 New York City, NY (PRWEB) December 28, 2015
An organization's reputation can be damaged so easily and quickly, and mending that reputation can take a long time. This eight-chapter guidebook captures best practices in communicating the positive relationships that organizations are building with their communities of interest. It also connects the dots between the effective communication of positive social contributions and corresponding improvements in bottom lines.
Digital and print copies of the CSR and Green PR Guidebook are available at http://www.prnewsonline.com/csr-green-pr-guidebook-vol-7.
CSR and Green PR Guidebook chapters include:

Cause Marketing & Community Relations
Sustainability Initiatives & Reporting
Employee Communications and CSR
Social Media & CSR
Philanthropy & Human Rights Communications
Stakeholder Communications
Professional communicators know that there has never been a better time than the present moment to advance CSR and sustainability initiatives for an organization and for clients. PR News' CSR and Green PR Guidebook will serve as a go-to source for the essential insights, strategies and tactics that will burnish a brand's reputation as a CSR leader.
The CSR and Green PR Guidebook is available at http://www.prnewsonline.com/csr-green-pr-guidebook-vol-7.
PR News' CSR and Green PR Guidebook is an invaluable resource for PR, communications and marketing professionals at any organization. This guidebook delivers a comprehensive look at how corporate social responsible initiatives can elevate an organization's reputation, internal morale and more.
For more marketing, PR and communications resources, check out PR News' PR Press Store, which includes books on social media, writing, measurement and crisis management.
Contact Laura Snitkovskiy at laura(at)accessintel.com with any questions regarding this guidebook.
The PR News Group is a daily intellectual hub that serves the communications and marketing community at corporations, agencies and nonprofits. With the launch of its weekly newsletter over 70 years ago, PR News has remained dedicated to supporting the growth of communicators all while keeping them abreast of the latest news affecting the industry. Visit http://www.prnewsonline.com for more information.