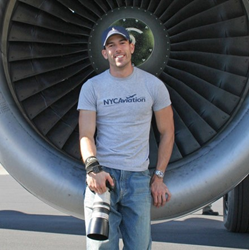 For passengers, maintaining good situational awareness is something that should be exercised at all times, whether you're flying or not -- Phil Derner
New York, NY (PRWEB) December 22, 2015
While statistics show you are more likely to be struck by lightning – seven times – than you are to die in a plane crash, travelers remain more anxious than ever when it comes to air travel. And with millions getting ready to board planes this week for the Christmas holiday, ExpertFlyer contacted aviation and security specialists to get their thoughts about the newest perceived threat – other passengers. ExpertFlyer recently posed several questions to three industry experts in the area of aviation and safety including Patrick Smith, pilot and author of Cockpit Confidential, Phil Derner, president and founder of NYCAviation, and Stephen Lloyd, former FAA ATO Director of Safety.
As the conversation continued, it became clear that all three experts agreed that an act of terrorism or some form of hijacking or kidnapping in flight is incredibly remote and that nearly all threats are eradicated miles from an airport. "It's important to recognize that the real nuts-and-bolts of keeping terrorists away from planes don't belong solely to the TSA screeners on the concourse," explains Patrick Smith. "It's the combined efforts of law enforcement, FBI, CIA, Interpol, and the TSA, all working together. From inspecting checked luggage and cargo to reviewing passenger data, any plotters are foiled long before they reach the airport."
So what can passengers do to protect themselves and their fellow passengers, while helping to relieve the anxiety and fear they sometimes have the moment we get to the airport? The experts agree that being aware of your surroundings and speaking up if you see something suspicious are the best ways to do your part. "For passengers, maintaining good situational awareness is something that should be exercised at all times, whether you're flying or not," says Phil Derner from NYC Aviation. And former FAA ATO Director of Safety Stephen Lloyd concurs. "I am a firm believer in, 'if you see something, say something.' Your life and the lives of others depend on all of us as travelers reporting suspicious objects, packages or bags without an owner. This includes suspicious activity or behavior by any person."
"Despite events recently covered in the news, air travel remains the safest means of travel," explains Chris Lopinto, president and co-founder of ExpertFlyer.com. "We are glad we had an opportunity to speak with these security and safety experts before the holidays to hopefully help travelers minimize their anxiety and focus more on the joy of spending time with friends and family this holiday season."
Experts agree that researching safety tips associated with destinations is always helpful. The U.S. State Department's website offers great information and safety tips for travelers. Travelers can also enroll in the Smart Traveler Enrollment Program (STEP) to automatically receive safety updates and other information about countries they will be visiting.
To read more about how to reduce nervous anxieties and prepare for safe travels from security experts, please visit ExpertFlyer's blog.
About Patrick Smith
Voted one of TIME magazine's 25 Best Bloggers, Patrick Smith is an airline pilot and the host of Ask the Pilot. His book, COCKPIT CONFIDENTIAL, is a New York Times bestseller.
About Phil Derner
Phil Derner founded NYCAviation in 2003. A lifetime aviation enthusiast that grew up across the water from La Guardia Airport, Phil has a decade of airline experience as a Loadmaster, Operations Controller and Flight Dispatcher. He currently runs NYCAviation and consults as an aviation expert for the news media.
About Stephen Lloyd
Stephen is a former Safety Director for the Federal Aviation Administration (FAA) and Air Traffic Organization (ATO). Currently, he is President of SJL and Associates Inc., Aerospace and Aviation consultants.
About ExpertFlyer.com
Each month, ExpertFlyer's One-on-One blog goes face-to-face with the travel industry's leading decision makers to discuss and address topics relevant to many of today's business and frequent travelers.
ExpertFlyer.com was conceived and created by an eclectic team consisting of a veteran elite tier frequent flyer, an airline captain and corporate travel manager, and information technology professionals to deliver a 24/7 real time powerful air travel information service. The company provides its subscribers and corporate travel managers alike with a complete, concise and efficient way to access the ever-changing details of worldwide air travel information. For more information, please visit expertflyer.com.
Stuck in the middle seat again? Download the free Seat Alerts app from ExpertFlyer and get the window or aisle seat without hassle or frustration.