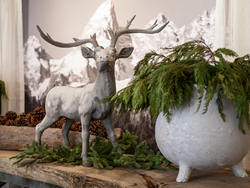 Holiday design can be as simple as editing your collectibles to spotlight unique pieces in a new setting.
Jackson Hole, Wyoming (PRWEB) December 22, 2015
For a fresh take on holiday design, WRJ Design, a Jackson Hole-based firm known for creating stunning interiors as well as for remarkable exhibitions of legendary personal collections, has released a tip list of ideas for incorporating "collectibles, antiques and heirlooms" into a room's decor, including whimsical items that can surprise and delight. The design firm recently expanded its Jackson, Wyoming, WRJ Design Showroom with the new, by-appointment WRJ Rustic, featuring one-of-a-kind pieces from around the world, incorporating European alpine elements, antique Asian pieces, interesting U.S. finds and more.
WRJ's ideas for creating rustic-elegant holiday design at home were inspired by preparations for opening the new showroom during the holiday season. "'Rustic' doesn't need to mean heavy log or timber," says WRJ Design COO Klaus Baer. "The definition of rustic is in the eye of the beholder, but for WRJ, we interpret it as clean, classic elegance versus 'decoration.' We like to incorporate the unique and textural rustic pieces into contemporary clean design."
For example, such pieces as a vintage Flexible Flyer sled or antique book press add nostalgia and interest when set against the sleek lines of a midcentury modern chair. "Holiday design can be as simple as editing your collectibles to spotlight special pieces in a new setting," says WRJ Design CEO Rush Jenkins. "For instance, we highlighted a rare hand-carved Belgian cement stag on the mantel to provide an interesting point of holiday interest. Later in the year, we might relocate the same piece to the garden to ring in spring."
Jenkins offers these tips for incorporating rustic elegance into your home for the holidays:
Give it a spotlight: Move a familiar piece with textural interest to center stage. A cement garden vase from the porch may look beautiful as a centerpiece on the table or mantel filled with evergreen boughs. Jenkins recommends being playful when it comes to rustic holiday home design: "Delight people with the unexpected."
Selected greenery: Granted, WRJ Design is located in Jackson, Wyoming, surrounded by forest and pines. But anywhere in the country, fresh evergreen boughs not only smell wonderful but can add a touch of the outdoors to clean modern design. "Don't go over the top with greenery everywhere," warns Jenkins. Evergreen boughs have more impact when used intentionally – on a mantel, in a vase, even as an extra accent of color, texture and fragrance tied to a gift.
Drape in luxury: The juxtaposition of a rugged outdoor toy collectible like the Flexible Flyer sled against the sumptuous look of cashmere, like the Loro Piana drapes WRJ uses in its showrooms and interiors, provides a visual contrast of whimsical and luxurious. The very different concepts – sporting and glamorous – play off each other, highlighting both.
Define "rustic": Everyone has his own interpretation of "rustic." "It doesn't have to mean 'country' – or even 'cowboy' as people here in Wyoming sometimes interpret it," explains Jenkins, who advises avoiding clichés and combining clean modern elements with a more primitive-feeling piece with texture and patina, like a rough wooden Asian trough used as a table centerpiece or the vintage Philadelphia birdhouse on display at WRJ Rustic. "It's unexpectedly angular and has some interesting details as well as a lovely patina to the metal," says Jenkins.
Texture: By layering multiple textures such as sumptuous cashmere throws, luxurious fur and smooth leather against rougher elements – fragrant evergreen garlands, outdoor logs ready at the fireplace or a rusted metal or wooden collectible – a room takes on an inviting, cozy atmosphere.
Holiday cheer: The holidays call for celebration. Smart homeowners woo guests with an at-the-ready home bar setup that doubles as a festive centerpiece – both beautiful and hard-working. Embrace the basics for providing drop-in guests with holiday cheer or snuggling before the fire. Add a rustic touch to cocktails served in sparkling crystal glasses by threading fresh cranberries on a sprig of boxwood.
WRJ Design's new WRJ Rustic showroom is open by appointment only; appointments can be made at the WRJ Showroom, 30 S. King Street, Jackson, Wyoming, or by phone at 307.200.4881.
About WRJ Design:
Headquartered in Jackson, Wyoming, WRJ Design imparts the special serenity of its local Teton landscape to interior designs in Jackson Hole and across the country. Begun out of a passion for great design by Rush Jenkins and Klaus Baer, WRJ creates experiences and environments through its designs, whether for interiors or exhibitions, that provide timeless reflections of the owners or collectors. WRJ's exhibition designs for titans of philanthropy, fashion, music and politics offer insight into the lives of these luminaries as they showcase the objects they loved. For more information visit http://www.wrjdesign.com.
Contact: Darla Worden, WordenGroup Public Relations, darla(at)wordenpr(dot)com, 307.734.5335