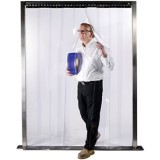 The beauty of these PVC doors is that they are great for saving energy, they maintain a room's temperature & they are easy to install, maintain, clean & replace
Warrington, Cheshire (PRWEB UK) 23 December 2015
The arrival of Storm Clodagh earlier this Winter has already been felt across the UK from snowfall in Scotland to trees being uprooted in Northwest England. These testing conditions can make business exceptionally difficult for some businesses – particularly those with exposed openings that require internal temperatures to be maintained in order to keep products stable and personnel comfortable during the freezing winter months.
Warehousing and Logistics along with Construction, Food Manufacturing and all other Industrial sectors are all working environments that can suffer in the colder months. Not only because of the affect it can have on the business' product, but also in ensuring a safe working environment is provided for the workforce too.
Warrington based PVC Strip & Rubber manufacturers, Rayflex Group, have been keen to point out that there are many other businesses they have worked with over their 40 years of operation that can benefit from the thermal properties of PVC Strip curtains.
Phillipa Taylor, Director at Rayflex commented, "Plastic strip curtains are used across a wide range of industries due to their impressive list of features. They are economical to buy, -easy to maintain & they do an excellent job at forming a flexible barrier which prevents energy and heat loss".
"Plastic door curtains can be found in use in supermarkets, cleanrooms, cold-rooms, warehouses, distribution centres, hospitals, restaurants, data centres & so much more."
One of the key reasons businesses have purchased PVC Curtains is the considerable energy savings that can be made to bring operating costs down, sometimes as significant as 30%-50% energy savings. Phillipa continued...
"The beauty of these PVC doors is that they are great for saving energy, they maintain a room's temperature & they are easy to install, maintain, clean & replace & this makes them the most popular type of flexible door barrier in the UK."
Rayflex Group in particular produce a range of products that can function as this barrier to the outside world including a child friendly material – Flowflex – that can be used for schools & nurseries to not only keep heat in but allergens & insects out of the classroom as well.
With the winter season well in effect, businesses may already see where PVC Strip Curtains can fit within their business & considering the benefits & gains to be made its recommended they get in touch with companies such as Rayflex Group as soon as possible.