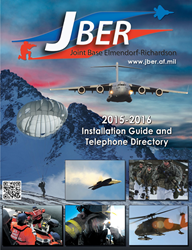 Base guides, in book form, online or in an app, are a tremendous resource for the military community. They provide community and installation information to new arrivals... - SMSgt Jill M. LaVoie, 673d ABW Public Affairs Superintendent
Anchorage, AK (PRWEB) December 22, 2015
MARCOA Publishing Inc. is pleased to announce it has contracted with Joint Base Elmendorf-Richardson to provide and distribute guidebooks and installation maps for all incoming active-duty personnel as well as provide JBER Public Affairs a means to distribute emergency base, promotional and event information through its MyBaseGuide multiplatform mobile app. This information is critical to troops and military contractors stationed at Joint Base Elmendorf-Richardson, as well as those relocating from other stations, and is disseminated at no cost to the base or taxpayer. Advertising by military-friendly businesses helps offset the production cost of the guide and mobile applications.
"Base guides, in book form, online or in an app, are a tremendous resource for the military community. They provide community and installation information to new arrivals, as well as mission information to the local community and unit visitors. The information included in a base guide is used to familiarize new military members and the community with the base, general policies and its role in national defense."

SMSgt Jill M. LaVoie, 673d ABW Public Affairs Superintendent
As the only publisher contracted to produce the official guidebook, maps and related MyBaseGuide mobile app for active-duty military at JBER, MARCOA provides local businesses a unique opportunity to reach the base population, behind the gates, and to have their military-friendly messages received directly.
MARCOA Publishing CEO, Matt Benedict, "Supporting those who serve is our motto. MARCOA Publishing has been producing base guides and maps for military installations since 1966 and locally in Alaska since 1971. We remain the most trusted name in the industry."
Dave Heafer, owner, Giant Don's Flooring America, and MyBaseGuide advertiser, "I believe JBER is very important to our state and economy and certainly has had positive socioeconomic effects on Alaska's market, especially for local business owners such as myself. MyBaseGuide is a unique avenue to reach and support our military directly."
MARCOA Publishing CEO, Matt Benedict, "It has always been the goal of this company to support those who protect our great country. With this valuable contract, we are able to provide the most comprehensive and robust multimedia offering in which the printed guidebook, MyBaseGuide.com website and MyBaseGuide app work in unison to provide the most up-to-date information about the installation as well as advertising from local businesses that support the military and their families."
The 2016-17 JBER Installation Guide and Telephone Directory will print in May 2016 with an initial distribution in June. Local businesses can support the guide by advertising goods and services in the dedicated community pages in print, online and in the mobile app.
More information on the contract, partnership, book and services provided is available through the contact above, or by visiting http://www.MARCOA.com, http://www.MyBaseGuide.com and http://mybaseguide.com/joint_bases/6/joint_base_elmendorf_richardson.
*Quoted from president and CEO of the Anchorage Economic Development Corp. Bill Popp, in the Alaska Dispatch News on July 8, 2015.