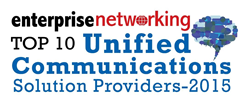 Akkadian Labs' solutions are creating new frontiers and opportunities in the UC domain
New York, New York (PRWEB) December 22, 2015
Akkadian Labs has been chosen by Enterprise Networking Magazine as one of its Top 10 Unified Communications Solution Providers 2015. The positioning is based on the evaluation of Akkadian Labs' akkadian Console Operator (aCO)—having the ability to give administrators the ease of managing multiple inbound and outbound calls, with its simple yet efficient operating interface.
The annual list of companies is selected by a panel of experts and members of Enterprise Networking's editorial board to recognize and promote technologies in the networking landscape.
"Akkadian Labs has been on our radar for some time for stirring a revolution in the Unified Communication space, and we are happy to showcase them this year due to their continuing excellence in delivering top-notch UC solutions," said Lena Headey, Editor-in-Chief, Enterprise Networking. "Akkadian Labs' solutions are creating new frontiers and opportunities in the UC domain, enabling organizations to optimize their communication quotient."
"Akkadian Labs is honored to be recognized by Enterprise Networking Magazine's panel of experts and thought leaders," said Kristin Zimmerman, EVP Global Sales, Akkadian Labs.
About Akkadian Labs
Akkadian Labs is simplifying and assisting enterprises in reducing I.T. staff costs for those who have made investments in Cisco's UC platform and applications. To reduce the cost and increase the productivity of the administration of the Cisco Unified Communications Manager platform, the company has developed akkadian Provisioning Manager Express (aPME) software, which enhances the customer's Cisco investment, takes the pressure off from the engineers and facilitates the provisioning of their UC system.
About Enterprise Networking Magazine
Enterprise Networking Magazine identifies key networking market drivers, inhibitors, and opportunities affecting it, along with technologies and trends that are redefining the networking landscape. The editors of the magazine brings prominent leaders of the networking industry in the spotlight, which are assessed and measured on their capabilities to bring disrupting and unique solutions for organizations. The Unified Communications Edition is an annual listing of Top 10 Unified Communications Solution Providers 2015. This edition will highlight 10 companies that are at the forefront of providing the prolific UC solutions.